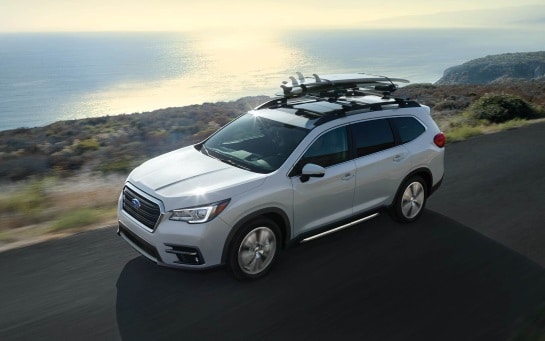 The last time Subaru released a midsize SUV was in 2014. A three-row family-friendly car has been missing from their lineup but that is no longer the case anymore thanks to the brand new 2019 Subaru Ascent available for sale at a Subaru Kansas City dealership in Lee's Summit.
The Ascent produces 277 pounds per foot of torque and 260 horsepower thanks to its 2.4-liter four-cylinder engine. The automatic transmission gives power to each of the four wheels.
Driving and Handling
The 2019 Ascent is a great competitor to the other midsize SUVs in its class. The amount of power is perfectly suitable for most drivers and the continuously variable automatic transmission (CVT) is as familiar as an automatic transmission. For mild acceleration, you will experience a very smooth increase in speed and for faster acceleration, the transmission will automatically change gear and reduce unwanted noise.
The Ascent is very easy to handle and wonderful to drive. The suspension does a great job of reducing the feeling of the bumps in the road and it goes around curves effortlessly. You can expect a smooth, relaxing, and comfortable ride with this car.
All 2019 Ascents come with an X-mode button that allows for a little bit of off-road driving. The ground clearance is 8.7 inches so while it's not built for extreme terrain, it is perfectly capable of taking you on adventures off the beaten path. The towing capacity of 500 pounds will also allow you to use a trailer to bring along anything that you may need. This puts it right in line with the competition.
It's what's on the Inside That Counts
The 2019 Subaru Ascent's interior provides great functionality for all of your needs. The Ascent's controls are perfectly located and easy to read. The faux wood and Touring trim add a bit of luxury to your ride.
A useful touchscreen display is included and it is placed near the top of the dashboard to provide you with everything you need with a quick glance and minimal distraction. The Ascent also comes with an infotainment system so that you will have access to useful menus, a Wi-Fi hotspot, built-in internet streaming apps, and more, all on a beautiful and bright display. There is also an option to upgrade to include a set of two 32GB iPads and wireless headphones that the passengers will love.
The front seats are made of leather, large, and supportive, although the leather can be a bit restrictive. They are ventilated at the top and equipped with multi-speed fans to make the ride more comfortable. The second-row seats are similar to the front seats, with the added benefit of adjustable armrests. There is plenty of headroom and plenty of space between the seats for an adult to fit comfortably. The headrests also have handles which help with getting in and out. The back row of seats is perfectly adequate for children and also large enough to fit small adults.
Subaru advertises that the Ascent has at least 19 cup holders throughout the car. This seems like overkill, but most of them are multifunctional. There are pockets large enough to hold items like iPads and in the front, there is plenty of space to hold your personal belongings.
The trunk/cargo area has plenty of space to hold larger items. There are 17.8 cubic feet of space behind the last row of seats. This number increases to 47.5 cubic feet if the last row of seats is folded flat and 86.5 cubic feet if the second row is stowed. This is among the largest amount of cargo space you can find in this class of cars. There is also a large under-floor bin that can be used to hold the cargo cover when it is not being used.
All about the Money
The eight-passenger base model of the 2019 Subaru Ascent sells for about $32,970. The features include four USB ports, Android Auto, Apple CarPlay, a mirror to give you a view of the back passenger seats, automatic climate control, a 6.5-inch touchscreen, a middle-row bench seat, roof rails, auto brake hold, 18-inch wheels, and advanced safety features such as frontal collision warning and adaptive cruise control. These safety features and more are part of a feature called Subaru's Eyesight.
The Premium model costs an additional $2,200 and it includes heated mirrors, a 5,000-pound towing limit, an eight-way adjustable powered driver's seat, cloth and spill resistant upholstery, a blind spot monitor, heated front seats, eight-inch touchscreen, a Wi-Fi hotspot, rear seat tinted windows and rear seat climate controls.
The Limited model costs around $39,970 and it provides reverse automatic braking, 20-inch wheels, a power liftgate, keyless entry and start, two individual chairs in the second row, a 10-way adjustable power driver's seat, a four-way power front passenger seat, adaptive headlights, automatic high-beams, fog lights, leather upholstery, extendable thigh support for the driver's seat, middle row retractable sun shades, and two extra USB ports (bringing the total to six). The middle bench seat is also available for free. There is also a panoramic sunroof, a universal garage-door opener, navigation system, a storable cargo cover, and an auto-dimming rearview mirror that come with both the Premium and Limited models of the Ascent.
The top of the range Touring model comes with all of the above and rain-sensing windshield wipers, a 180-degree front camera, a heated steering wheel, premium leather, simulated wood trim, ventilated front seats, a traditional power outlet, eight USB ports, and a Harman Kardon surround sound system. It costs $45,670.
Overall
The 2019 Subaru Ascent is a solid option for those in the market for a midsize, family-friendly SUV. There is plenty of seating and cargo space, plenty of safety and entertainment features, and plenty of safety features. The overall performance of the car will make most drivers happy. It is definitely a great option for a new car.