The new 2018 Subaru BRZ is a lightweight, ultra-low-center-of-gravity sports car. It starts out at only about $100 over the previous model year, the infotainment and navigation available are new, there is a choice of a 6-speed manual or a 6-speed automatic transmission and it comes with an optional performance package.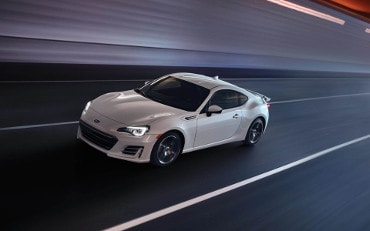 If you get the 6-speed automatic transmission you are looking at an engine with 200 horsepower and 151 lb-ft that will give you 24 miles per gallon in the city and 33 miles per gallon on the highway. If you are looking at getting the 6-speed manual transmission you will have a 2.0-liter flat-four with 205 horsepower and 156 lb-ft and you will get 21 miles per gallon in the city and 29 miles per gallon on the highway.
The trunk space in the BRZ measures 6.9 cubic feet and you do have the ability to make the space larger by folding down the rear seat.
There are many standard features that are included in the 2018 Subaru BRZ. There is a leather-wrapped steering wheel, 17-inch alloy wheels, Bluetooth, Starlink interface with a 6.2-inch touchscreen, a rearview camera, LED headlights, keyless entry, cloth upholstery and a USB port.
If you move on to the Limited trim you will get dual-zone climate control, keyless start to go with your keyless entry, a 4.2-inch display, and front seats that are heated. You will have the option of Alcantara or leather upholstery and you will get fog lights. Navigation will be available to you through a phone app. Finally, you can add a performance package to the Limited trim which will give you wider tires, Brembo brakes, Sachs dampers and black 17-inch alloy wheels.
Updates
The updates that have been added to the 2018 model will offer more convenience and comfort to your experience. All of the new models now feature welcome lighting that helps to improve visibility at night when you are approaching or leaving the vehicle. The headlights will turn on automatically now when you engage the wiper blades and the lane changer turn signal is now one-touch operational. Both automatic and manual versions now get a leather shift handle to class it up a little. The BRZ also now gets a tS variant that gives you Brembo brakes, an adjustable rear wing, Bilstein shocks and 18-inch black alloy wheels.
The Performance Package offered is for drivers that want more of a sports car feel. It will be available on the manual transmission Limited trim. This will upgrade the brake system to include front four-piston Brembo calipers and rotors and rear dual-piston calipers and rotors. There will be four SACHS Performance shock absorbers to improve the ride and stability of the vehicle and there will be 17-inch by 7.5-inch black aluminum alloy wheels added to the vehicle. This whole package is reasonably priced at only $1,195 which is definitely worth it for that sportier feel for your vehicle, perfect for the Kansas City roads.
2018 Subaru BRZ Limited and Premium Trim Levels
When looking at the Premium and Limited trim levels of the 2018 Subaru BRZ we can see that they do have some things in common. The amenities that come standard with both of these trim options include LED headlights, powered door locks, powered mirrors, powered windows, and remote keyless entry. Both trim levels have black interior upholstery with red stitching that includes the door panels, the center console, the shifter and the parking brake lever. You will see a leather steering wheel in both levels as well as controls for cruise control, audio, and Bluetooth in the steering wheel. Both of the trim levels also include Incline Start Assist so that the vehicle is held in place while the driver accelerates so that the vehicle will not be able to roll backward.
The biggest Premium trim level feature is the Subaru 6.2-inch STARLINK multimedia system. This system includes a 6.2-inch high-resolution touchscreen which has an AM/FM/HD radio, single disc CD player, and eight speakers. If you get the standard multimedia system it will offer integration with your smartphone. You will also get a hands-free Bluetooth connection and audio streaming with SiriusXM All-Access Radio if you have a subscription and a rearview camera.
The Limited will give you LED fog lights, keyless access, dual-zone climate control and push-button start and will have a starting price of $28,445. The front seats in the Limited model have Alcantara inserts and have a red BRZ logo embroidered on the seatback. There is also a security system in the Limited and there are lighted vanity mirrors on both the driver and passenger visors and the front door courtesy light.
The 2018 Limited also get the latest generation of the Subaru STARLINK 7.0 Multimedia Navigation system as standard. It includes a 7-inch touchscreen with intuitive maps from TomTom. It gives you voice-activated controls and navigation and integrates your smartphone with Apple CarPlay and Android Auto. There are Bluetooth hands-free phone options with audio streaming and a rear vision camera. Also, if you already have a subscription then SiriusXM All-Access Radio with SiriusXM Traffic and Travel Link will be available to you.
Exclusively available for the Limited is an LCD display (4.2-inch) with multiple functions that is positioned next to a tachometer which can show you the performance of your vehicle such as coolant and oil temps, battery voltage, steering angle lateral Gs, braking force, and accelerator pedal position. You can also use the stopwatch feature for lap time recording. Finally, the BRZ Limited gives you the option of a 6-speed automatic transmission with paddle-shift control switches and is only priced around $29,545.
The 2018 Subaru BRZ available at favorite Kansas City Subaru dealership Lee's Summit Subaru got four out of five stars on the front crash test and five out of five stars on the rollover test from NHTSA. The IIHS has yet to test the 2018 version of the BRZ when it comes to crashworthiness but Subaru did well with the 2017 BRZ model. The IIHS has yet to test the headlights of the BRZ and the active safety features aren't available on the 2018 Subaru BRZ.