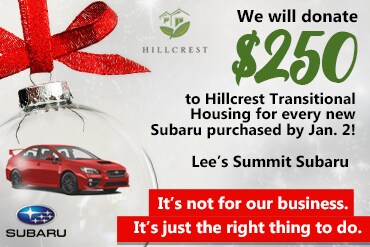 At Lee's Summit Subaru, we are proud to be a family-owned, charity-driven car dealership that focuses on supporting the people and associations in our Kansas City community. We consider supporting our Kansas City community like being apart of a sports team – we are an integral part to the success of our community and our neighbors.
When it comes to giving back to our Kansas City community, Lee's Summit Subaru does so in many ways: events, campaigns, programs and of course, charitable giving. One of our favorite collaborations is with Hillcrest Transitional Housing, and this November and December, we are proud to contribute $250 for every new Subaru bought on our lot to help fight homelessness in Kansas City.
Hillcrest Transitional Housing: Fighting Homelessness with Its Effective 90-Day Program
Eastern Jackson County's Hillcrest Transitional Housing is a 90-day transitional housing program that both gives homeless adults and families a safe, comfortable place to stay and helps them to achieve self-sufficiency. Unfortunately, homelessness isn't something that just affects adults. Kansas City's homeless population includes 53% adolescents, whose average age is seven.
When homeless adults and families come to Hillcrest Transitional Housing, families receive a full-renovated apartment, plus food, toiletries, budget counseling and training in everything from life skills to problem solving and goal setting. Hillcrest even provides access to dental, medical and vision care to these adults and families. To top it off, the life-changing program's caring volunteers provide services like haircuts, auto repair and more to help get these adults and families back on their feet.
Hillcrest Transitional Housing uses a nationally-recognized and award-winning program of high-accountability budgeting and life skills education with a 37-year record of repeated success. And families who enter Hillcrest Transitional Housing's program have a 95% chance of being self-sufficient by graduation, and an 80% chance of staying successful in five years. Hillcrest is proud to graduate 42 local families from this program every year!
Hillcrest Transitional Housing has been recently recognized for its work by the National Alliance to End Homelessness, and in 2004, it was awarded the 2004 Stuart Whitney Award for Advocacy from the Homeless Services Coalition of Kansas City.
Lee's Summit Subaru is proud to be a business that supports the fantastic work that Hillcrest Transitional Housing is across Kansas City, and we are proud that we can do our part this November and December with $250 donated for every new Subaru bought on our lot. Together, we can break the cycle of poverty for future generations by helping homeless adolescents gain new opportunities and have a brighter future.
In addition to our work with Hillcrest Transitional Housing, Lee's Summit Subaru has been apart of many exciting and rewarding events and campaigns, like the Subaru Loves Learning programs, which help to collect school supplies for kids and teachers through our Stuff the Subaru events. This May, we had an in-store pet adoption event, which was in collaboration with Midwest Animal ResQ, Raintree Animal Health Center, and Pete & Mac's Pet Resort. We're also a proud supporter of the annual "Shop with a Cop" campaign, helping build a strong community bond by pairing Lee's Summit Police Officers with teacher-selected children from our local schools. In addition, we regularly give to great local causes like Meals on Wheels, Butterfly Heroes, and Share the Love, to name a few.
It is our joy to be in collaboration with all of these great businesses to help make Kansas City a strong community and a great place to live. We are happy to both facilitate giving and hear about new giving opportunities, so contact us anytime if you need our help making our community an even better place to live.
Get Involved with Your New Subaru Purchase
If you're in the market for a new Subaru in Kansas City, you can be apart of our partnership with Hillcrest Transitional Housing and help fight homelessness in Kansas City, just by purchasing a new Subaru.
Call or text one of our sales professionals at (877) 693-1347 to learn more about how your new Subaru purchase benefits Hillcrest Transitional Housing in November and December and start shopping for your new Subaru today!