It's a great decision when you choose to purchase a Subaru from an authorized, trusted dealership because it gives the best possible continued service contract and peace of mind. With this, selecting either from our widest range of ideal used or new Subaru car couldn't be seen as a wrong decision, whether; they're from Independence, Blue Springs, or Kansas City, an experience or knowledgeable purchasers converge at Lee's Summit Subaru to experience the best car purchase and ownership experience the clients might see in Missouri.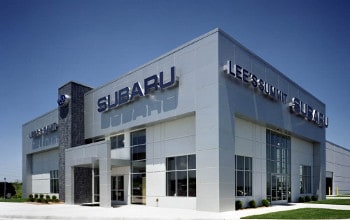 If you're from Missouri, Kansas City, Blue Springs, Independence, then you can as well be thinking "where is a Subaru dealership near me," Lee's Summit Subaru is the solution, and we've been rendering service to the people of these communities for nearly half a century. Let's us examine some of the factors that several people put into consideration before choosing Lee's Summit Subaru in the Missouri region.
The Lee's Summit Subaru Dealership You Can Trust
Lee's Summit Subaru is regarded by many as the first Subaru Dealership in the state, providing service to the citizens of Kansas City, Blue Springs, and Independence. We have a massive selection of the newest generation of Subaru automobiles that has been winning prizes across the board in style, design, performance, utility, safety, and economy for sales at our modern sales outlet, which include the Crosstrek, the Outback, the Legacy, the Forester, the Impreza, the WRX, and the BRZ.
Used and Certified Pre-Owned Subaru Dealership in Lee's Summit
Those searching for a better bargain can select a certified pre-owned or used Subaru from our broad range of vehicles. A used Subaru Forester is one of the common options or a certified pre-owned Outback. There are many years of dependable miles ahead in Subaru Certified Pre-Owned Vehicles. These vehicles come standard with some important benefits over non-certified, used Subaru models, including 24-hour roadside assistance programs, factory warranties, and a detailed 152-Point inspection from our factory-trained Subaru engineers. We also provide trade-ins for your present automobile and a CarFinder service that allows you pursue the ideal vehicle for your needs at prices you'll love.
Where's a Subaru Service Center near Me?
Don't be troubled, we're not only a Subaru auto dealership, we also provide all other services relating to automobiles under one roof for you. The Lee's Summit Service Department is one of the top notch service centers in the state, with scores of certified, highly proficient technicians and the required high-tech tools available to execute the continuing maintenance on your Subaru. Our service center has the very newest technology to work on your Subaru, and because of our excellent service people come from a far distance to benefit from our services, such as from NE, Lincoln, and Omaha NE.
Subarus might be the sturdiest automobile on the Earth but they still require maintenance and occasional repairs. Select the Subaru service center close to you and get the superb service possible. Selecting Lee's Summit Subaru for all of your repairs and maintenance indicates that the quality and value of your vehicle will remain high, as we are a proficient service center that uses only genuine OEM Subaru parts.
We provide a quick lane service with no prior arrangement necessary that covers a complimentary multi-point inspection. Prior arrangement of services is also easy with our internet service scheduling.
Lee's Summit Subaru also carries one of the broadest ranges of Subaru accessories, Subaru tires, and Subaru parts in the Missouri and Kansas areas. Just contact our parts center, and this will enable us to source or supply anything you want for your Subaru. We also do wheel balancing, oil changes, brake checks and replacement - everything you'd ever desire from a local Subaru service center.
Only the Best Parts for Your Lee's Summit, Independence or Kansas City Subaru
What is adding value to our service is the Lee's Summit Subaru part and accessories center. We have a broad range of unique Subaru parts and accessories onsite. As a result, you're much less likely to need to wait for a part or accessories to be available when you come to Lee's Summit Subaru.
Fleet Services and Commercial Subaru near Me
Subaru trucks are used widely by organizations in Missouri, and because of this, we have a devoted fleet service section to be on top of these particular queries. Whether you're searching for priority vehicle servicing and repair, special pricing, Subaru vehicle leasing or special finance in Missouri, our fleet service section has all that it take to provide you an excellent service.
Financing a Subaru in Missouri
Lee's Summit Subaru is a one-stop-shop for all of your Subaru needs. We provide financing for a Subaru in Kansas City regardless of whether you are buying one of our excellent used models or a brand new model. We provide several special finance incentives and leasing options direct from Subaru. We usually find a method to give the best deal for you and can set out the terms of any financing contract you enter into in a simple and clear way.
With our easy online financing application, you may see yourself pre-approved for financing in a matter of seconds, ready to drive away in the new Subaru or used vehicle of your dreams.
The Best Subaru Dealership near Me? Lee's Summit Subaru!
There's no doubt that for Overland Park, KS; Excelsior Springs, MO; Prairie Village, KS; Belton, MO; and Raymore, Lee's Summit Subaru is the local dealership to trust. Contact us today to discuss your requirements and you'll see the reason behind why we're always considered one of the best Subaru dealerships in Lee's Summit, Independence, and Greater Missouri.