Summit Detail │ Auto Detailing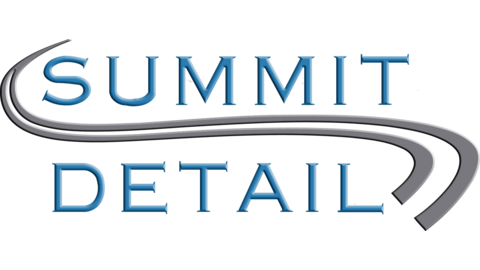 Having Problems Finding the Time to Detail Your Car? Summit Detail Is Your Solution.
When life gets busy, our most important relationships can fall by the wayside.
We lose contact with those we hold close because our schedules pull us in many different directions. It could be with your friends, family, and other loved ones in our lives.
However, most often, when we're too busy, it's the relationship with our vehicles that tend to come apart at the seams. Sure, you probably keep up with scheduled maintenance for mechanical parts. But it's those little things that show genuine pride in your car, van, or truck and make for a pleasurable drive every day.
Automobile detailing is the best way to deal with those "little" nuances that finetune your car's exterior and interior appearance. The tiniest crevice and crease being made immaculate makes your vehicle shine, and you smile, every time you climb inside to hit the road.
The only issue is, where do you find the time to get your car detailed?
Car Detailing Services that Fit Your Schedule
Up until now, throughout Lee's Summit, there's been one distinct problem with vehicle detailing companies. Namely, you've had to take your car into a given location on your own time, limiting your options for an appointment.
Fortunately, at Summit Detail, they're offering services that'll fit your schedule. It's the only option for pickup and delivery services in all of Lee's Summit.
So, whether you're at work or spending time with your family, the dedicated team at Summit Detail handles the entirety of your car's detailing needs. They're there for you - every step of the way. 
There's no need to drive to their location while navigating your way through a packed schedule. Instead, you can seamlessly go along with your day while your vehicle is scrubbed, washed, and manicured down to the last detail.
Don't Have Time or Patience to DIY Your Car Detailing?
Sure, DIYing your car, truck, or van detailing removes having to drive to the establishment from the equation.
Still, you then must factor in the time and effort spent on achieving professional results. You'll toil and sweat through endless hours on your hands and knees, likely growing more frustrated.
You might even think you're saving money by doing it yourself. Then, you start considering the expensive, specialized cleaners and tools required, you realize that it's not as budget savvy as you think. 
At Summit Detail, the team lives, eats, and breaths everything there is to do with automobiles. To these passionate individuals, your vehicle is more than something that gets you from A to B. 
As such, Summit Detail treats every square inch of your automobile with the most delicate care and precision. Delivering a final product with showroom shine, every time.
Taking Care of Your Vehicle is Taking Care of Yourself
Appearances might not be everything, but they still mean a lot.
There's a reason for the old saying, "when you look good, you feel good." And your automobile is a direct reflection of you.
A beautifully detailed car, truck, or van gives you that sense of status and achievement because it's an extension of your personality. Pride in and dedication to the quality and appearance of one's vehicle is a time-honored American tradition. Summit Detail has forged its path in the industry by upholding those values.
If you hire Summit Detail, we guarantee you'll stand that little bit taller. And you'll smile - extra wide - when you get that first look at your gorgeously detailed automobile.
Open to the Public
Right now, there's a wealth of confusion about what businesses are open to the public.
Fortunately, Summit Detail is one of those establishments with services that remain available to you, even in the most challenging of circumstances. They adhere to the strictest standards of cleanliness to keep both employees and customers safe, which is their #1 priority.
Don't Let Contaminants Damage Your Vehicle
Maintaining your car, truck, or van is obviously largely dependent on ensuring the long-term health of mechanical parts. However, it may shock you to learn that not detailing your automobile can adversely affect its shelf-life
Your car's surface can be damaged by contaminants, such as sap and tar, that chew through the clear-coat layer of paint.
From there, the colored basecoat on your automobile gets exposed to harmful elements.
Every last contaminant will be removed when you bring your car in for detailing services at Summit Detail. This measure guarantees the restoration of the clearest coat and ideal smoothness.
Say Goodbye to Swirls and Scratches
Having that pristine, clear coat isn't possible if your vehicle keeps compiling scratches and swirls without remedying the problem.
In many cases, these blemishes occur due to buffers being misapplied. Or they stem from visits to express car washes, which can do more harm than good.  
Since Summit Detail is the top vehicle detailer in the Kansas City area, its skilled team of technicians eliminates these imperfections with their pinpoint skillset. You'll be thrilled with an exterior without one scratch or swirl on an automobile that looks freshly delivered from the factory.  
Perfect Levels of Paint Protection
Coat protection doesn't begin and end within the confines of a vehicle detailing garage. Your car, van, or truck requires clear coat protection after being cleaned and polished.
At Summit Detail, a painstaking amount of energy is focused on bolstering your clear coat protection. They'll customize their paint restoration process and exterior detail to your car's needs with a proprietary coating technique. After your vehicle is detailed, all paint haze, minor scratches, water spots, paint overspray, and other paint-related damage will be a thing of the past.
The technicians at Summit Detail also use coating products and methods that protect your automobile's exterior from acid rain, hard water spots, UV rays, and similar environmental damage.
Intricate Interior Detailing
While you want to look good on the outside, it's what's on the inside that really counts.
More specifically, the shiniest, glossiest exterior doesn't mean much if the interior of your car isn't equally as immaculate.
The skilled detailers and technicians at Summit Detail will carefully groom your automobile through vacuuming, steam, shampooing, and extracting, etc. Whether it's your console, dash, panels, windows, compartments, or vents, the team is dedicated to ridding your vehicle's interior of all dirt and grime.
A Proven Track Record with Attention to Detail
Summit Detail is a relatively new business. Yet, in that short time, the team has successfully established a reputation for their unparalleled attention to detail.
As an establishment with only three years in existence, the over 6,000 details performed proves that the word has spread quickly about the staff's skill and reliability as detailers. Think about it-that's 2,000 customers per year, leaving with smiles on their faces.
Summit Detail Operates Under Strong Principles
Beyond skill, precision, and attention to detail, the most attractive feature of Summit Detail is that they operate with the same philosophies that we do as a revered car dealership.
For Summit Detail, much like at Lee's Summit Subaru dealership, it's far more urgent to serve than to sell. The goal of their passionate team is to satisfy your demands and expectations as a customer.  
The trusted team of detailers has worked alongside market-leading dealerships throughout the Kansas City area by sharing these critical traits:
Strong code of ethics

Always taking 100% accountability

An unwavering commitment to performance

Continually striving for excellence
These are characteristics that both align Summit Detail with leading dealerships and comprise the building blocks of their business.
Furthermore, Summit Detail has pledged to always do right by all vehicles. We've found, through working with them as a dealership, that this mantra is displayed in their details-it isn't all talk.
The team fully grasps that "clean" doesn't necessarily mean a job well done. As proud car lovers themselves, the only results that are acceptable for the staff at Summit Detail are sparkling and pristine. They treat each car like the treasured possessions they are
Plus, these detailers and technicians remain caught up on state-of-the-art practices as well as the most advanced techniques and tools in the industry.
Summit Detail's team is caught up with the newest developments in solvents, tools, and the multitudes of cleaning compounds. And the team is 100% at home when dealing with the vast number of paints and material compositions.
Our First Choice in Detailer for Your New Subaru
The moment you select a vehicle from our dealership at Lee's Summit Subaru, we'll do everything to ensure you'll get the most value from your purchase.
As such, we refer our clientele - and anyone else who'll listen - to Summit Detail, so their car, truck, or van receives the treatment it deserves. We've received endless rave reviews from satisfied car owners. They've become life-long customers throughout our time working with this fine establishment.
At Lee's Summit Subaru, we'd only ever recommend the best available services for your car, and Summit Subaru only proves to uphold those standards.
Perfection At Your Doorstep
Are the imperfections on the interior and exterior of your car, van, or truck beginning to mount? Can you even remember the last time you got your car detailed?
Life gets incredibly busy, and it's hard to do the little, important things, like deep cleaning your automobile, especially when detailers don't work with your schedule.
Summit Detail is the only service of its kind in the Kansas City area offering pickup and delivery. If you're looking to get your Subaru - or any other make - detailed,
book today
with a team that displays the most thorough attention to detail.