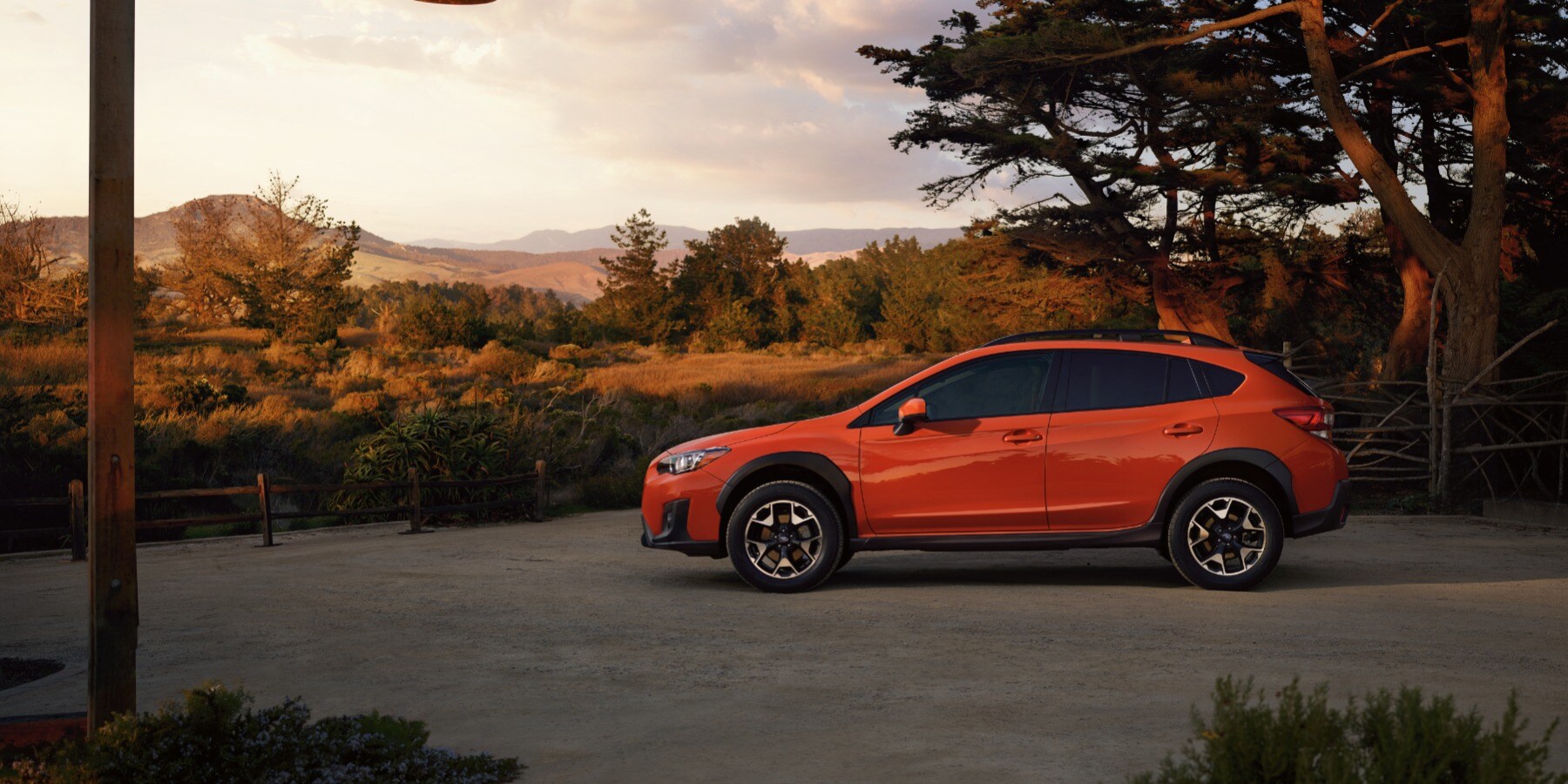 2020 Crosstrek Base Starting at $22,145
Are you someone with a thirst for adventure and driving on the open road? Then the Subaru Crosstrek might be everything you've wished for in an automobile.
Unlike most smaller SUVs, the Crosstrek's Symmetrical All-Wheel Drive allows you to handle any surface (including off-road) with the utmost confidence. You can enjoy the thrill of rugged terrains with superior responsiveness - a result of the 152-hp 2.0-liter Direct-Injection SUBARU BOXER® Engine.
A Budding Fuel Economy
Combined with the SUBARU BOXER® Engine, the Crosstrek's 6-speed Manual Transmission allows you to hit those higher speeds without burning through your fuel. 
While the Crosstrek doesn't possess the size of Subaru's other offerings, it shares deftness and grit in challenging driving scenarios. With its trademark 8.7 Inches of Ground Clearance, this crossover SUV can conquer any obstacle with the utmost ease. 
Keeping Safety Top-of-Mind
If you're purchasing any Subaru, you can be 100% sure about driving a vehicle that keeps drivers and passengers safe. The Crosstrek holds true to such a notion, as proven by the Vehicle Dynamics Control (VDC) with Active Torque Vectoring (ATV). 
When driving your Crosstrek, your wheel speed, steering wheel position, and an array of other factors are monitored via multiple sensors. This is due to the VDC, which is an advanced active safety system.
Plus, Subaru's ATV prevents your wheels from over spinning and drastically improves handling. It doesn't matter how tight space is, everything will remain smooth and relaxed while maneuvering your Crosstrek. 
The Safety Features Keep on Coming
Safety continues to be an ongoing theme with this crossover SUV. The Anti-Lock Braking System (ABS) boasts the most up-to-date technology, helping you maintain your confidence on the road. 
With its 4 Channel/4 Sensor feature, the ABS will monitor each wheel to ensure the optimal braking force. This keeps you safe on the road, and it prevents wear-and-tear on your vehicle.
Also, the 4-wheel Disc Brakes with Brake Assist give you that added layer of protection in challenging driving circumstances. Suppose you're unable to stop your vehicle with enough force. In that case, this feature will provide you with the extra oomph needed to keep you protected. 
Speaking of safety features, we'd be remiss to ignore the 17-Inch Black Finish Alloy Wheels with Machined Accents that are responsible for additional traction. The accents add a visually appealing sheen that makes the Crosstrek a pleasure to look at. 
And the nifty Rear-Vision Camera enhances your view of what's behind you, preventing plenty of potential accidents.  
Last (but far from least) is the Crosstrek's comprehensive Airbag System (SRS), consisting of:
Subaru Advanced Frontal Airbags

Side Curtain Airbags

Front Seat Side Pelvis/Torso Airbags

Driver's Side Knee Airbag
It All Starts at the Top
The Crosstrek's Rear Roof Spoilers provide an aerodynamic boost to the vehicle while adding a customized aesthetic to catch onlookers' eyes. Then there are the Raised Roof Rails, allowing plenty of additional room for cargo that doesn't quite fit inside the vehicle. 
Don't let the Crosstrek's smaller size (compared to the Forester or Outback) make you think it lacks space. Its Rear Seatback, 60/40 Split Fold-Down provides an abundance of room to fit additional belongings, or for more passengers. 
So, you have a vehicle ideal for packing your gear for a kayaking trip. Alternatively, it proves spacious for family trips with more than just a couple of passengers. 
Best of all? Your luggage and other items will be safe and secure when you use the Crosstrek's Cargo Tie-Down Hooks. 
An Optimized Front-Seat Experience
Sitting on the driver's side of the Crosstrek comes with a litany of perks:
For starters, there's the Auto-Up/Auto-Down Driver's and Front Passenger Windows, giving you complete control of the conditions in your vehicle. Automatic Climate Control adds further comfort and a sense of luxury to this crossover SUV.
Enhancing this cushy feeling in the driver's seat is the Steering Wheel Audio and Bluetooth® Controls. You can choose multiple settings - and talk on the phone - while your hands remain on the steering wheel and eyes on the road. 
These comfort levels even extend to the Crosstrek's Tilt and Telescopic Steering Column. The steering wheel can be set to meet your exact specifications, making for superior ergonomics.
Power Door Locks, Mirrors, and Windows punctuate the customized feel to the vehicle. You can press a button and have each aspect of the automobile catered to your needs.
Convenience is King
If you feel like taking it easy on the road and wish for a more relaxed driving experience, the Crosstrek's Cruise Control is steady and smooth. 
This convenience is equaled by a Security System with Remote Keyless Entry. It only takes a press of a button to ensure your car is either impenetrable or unlocked at your whim.
Immersive Built-In Multimedia
Subaru believes that you should enjoy every last second of the driving experience. Whether you want to listen to your favorite podcast, radio station, or music playlist in your car, it ought to be seamless and straightforward. 
With the SUBARU STARLINK® 6.5-inch Multimedia, life inside the Crosstrek offers all that entertainment and more. The technology integrates hassle-free into the vehicle, so you don't need to worry about a long and clunky manual setup. 
Here's a list of all you gain with STARLINK:
Apple CarPlay and Android Auto

AM/FM Stereo

6.5-inch Touchscreen

Bluetooth Audio Streaming and Hands-Free Phone Connectivity

USB/iPod® Control
Yes, the Crosstrek is a smooth car to handle. Yet it kicks up the "fun" factor a considerable notch with STARLINK multimedia. It takes you from merely driving to thriving.
Other Optional Features Offered with the Crosstrek:
Lineartronic® CVT (Continuously Variable Transmission):

X-MODE® with Hill Descent Control

Subaru Intelligent Drive (SI-DRIVE) Engine Performance Management:

Intelligent and Sport Modes
Auto Start-Stop Technology

EyeSight® Driver Assist Technology with Pre-Collision Braking

Rear Seat Reminder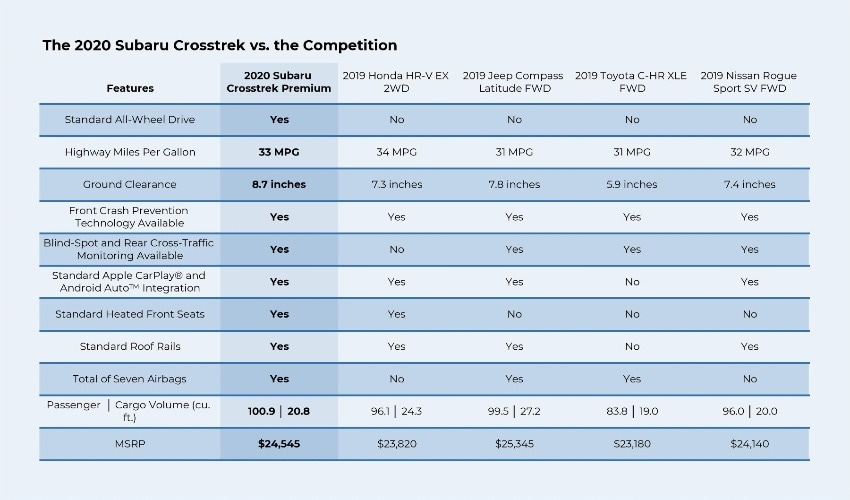 Crosstrek Premium Starting at $23,195
The Crosstrek Premium comes equipped with all that the standard model does, alongside a few pivotal upgrades. 
These additions begin with Fog Lights that heighten versatility when it comes to weather conditions. Subaru ensures your vision remains crystal clear, even when submerged in the darkest grey conditions.
Then, there's the All-Weather Package, which possesses the following features:
Heated Front Seats

Heated Exterior Side Mirrors

Front Wiper De-Icer
Once you own the Crosstrek Premium, you'll remain warm and comfortable, and maintain clear and precise vision. 
A Well-Designed Interior
There's no understating the lavish hand-feel of the Crosstrek Premium's Leather-Wrapped Steering Wheel and Shifter Handle with Contrasting Stitching. This feature also vastly improves hand traction when steering and shifting gears.
 Furthermore, the Cloth Upholstery with Contrasting Inserts and Stitching contributes to a welcoming aesthetics. This kind of material is also easy to maintain-meaning fewer trips to the car detailer.
The Premium model's Cargo Area Cover and Tray keeps your upholstery safe from more abrasive and jagged cargo. This is conducive to a longer shelf-life for your vehicle.
An Automatically Enjoyable Driving Experience
The fewer details you need to think about when driving, the better. This is the primary reason why Subaru offers automatic features in the Crosstrek Premium.
First, is the Auto On/Off Headlights, ensuring you don't chew through your car battery. On top of that, Automatic Door Locks bolster security, ensuring your Crosstrek Premium remains protected from intruders-even if you forget to lock up yourself.  
A Vastly Upgraded Multimedia Experience
Sure, the multimedia integration in the standard Crosstrek is impressive. However, the premium's upgrades are enough to turn anybody's head.
More specifically, the SUBARU STARLINK 6.5-inch Multimedia Plus comes with these excellent, additional features:
Apple CarPlay and Android Auto

AM/FM HD Radio® Stereo with Single-Disc CD Player

6.5-inch Touchscreen

SiriusXM® All Access Radio with Free 4-month Trial

SiriusXM Travel Link® with Free 4-month Trial

Bluetooth Audio Streaming and Hands-Free Phone Connectivity

Dual USB Ports
You won't run out of content when driving this model-there are seemingly endless options to choose from.
Additionally, the SUBARU STARLINK Safety and Security offer you STARLINK Safety Plus, including Automatic Collision Notification with a Free 3-year Subscription. In the off chance an accident occurs, emergency service vehicles will be immediately notified.
Other Optional Features Offered with the Crosstrek Premium:
SI-DRIVE Engine Performance Management:

Intelligent and Sport Modes
Auto Start-Stop Technology

Lineartronic CVT:

X-MODE with Hill Descent Control

8-speed Manual Mode

Paddle Shifters
Power Moonroof

6-way Power Driver's Seat

Keyless Access with Push-Button Start and PIN Code Access

Driver Assist Features:

EyeSight Driver Assist Technology with Pre-Collision Braking

Blind-Spot Detection and Rear Cross-Traffic Alert
Crosstrek Limited Starting at $27,395
The Crosstrek Limited gives you everything available in the Premium model, along with a wealth of other alluring features.  
Initially, it's worth bringing up Subaru's Intelligent Drive (SI-DRIVE) Engine Performance Management. It's an advanced system offering selectable modes that ensure high-level performance in a multitude of conditions. 
More specifically, the Crosstrek Limited combines a sporty response with efficient fuel consumption, making for the ideal balance. There are two distinct modes in SI-DRIVE - those being Intelligent Mode and Sport Mode.
Intelligent Mode maximizes fuel efficiency, smooths out the ride, and offsets emissions. Whereas Sport Mode is directly responsive to driver input. 
Prioritizing Your Fuel Economy
Reducing emissions and fuel consumption was highly prioritized by the designers of the Crosstrek Limited. This high-performing automobile's Auto Start-Stop Technology allows your combustion engine to start-and-stop automatically. 
Transmission Capabilities Meant for Any Occasion
Lineartronic CVT gives you the chance to use either automatic or manual transmission, depending on your preference. It transitions between higher and lower gas ratios, meaning premier versatility. Furthermore, your vehicle can maintain momentum without needing to shift.   
Part of this package is X-MODE with Hill Descent Control. It helps maintain your vehicle's starting speed-directly resulting in safer maneuvering.
Beyond that, the Lineartronic CVT includes 8-speed Manual Mode and Paddle Shifters. 
Enhanced Safety and Control
Boasting 18-inch Black Finish Alloy Wheels with Machined Accents, the traction and control of the Crosstrek Limited are second-to-none. 
Then there are the LED Fog Lights that last longer than other more standard options. What's more? LED lights are far more durable in poor weather conditions.
Best of all? The Crosstrek Limited's LED Fog Lights are energy efficient, especially compared to halogen bulbs. 
Looking Good and Driving Better
Body Color Exterior Mirrors with Integrated Turn Signals are the perfect example of function and form. They look immaculate, blending perfectly with the rest of the Limited's design, while clearly communicating to other drivers when you turn.
The Limited's interior displays one of its more substantial upgrades, highlighted by Leather-Trimmed Upholstery with Accent Stitching.
You'll feel cozy behind the wheel since the 6-way Power Driver's Seat lets you find your perfect sitting positioning.
There isn't even a need to be in the car to start your Crosstrek Limited, due to the Keyless Access with Push-Button Start and PIN Code Access. This is perfect for those frigid winter days when you don't want to sit around waiting for the car to get going while your teeth chatter. 
Ramping Up the Entertainment
As if it were ever possible, the Limited eclipses its predecessors in the entertainment department with the SUBARU STARLINK 8.0-inch Multimedia Plus. This includes excellent features, such as:
Apple CarPlay and Android Auto

AM/FM HD Radio Stereo with Single-Disc CD Player

8.0-inch Touchscreen

Wi-Fi Connectivity

Voice-Activated Controls

SiriusXM All Access Radio with Free 4-month Trial

SiriusXM Travel Link with Free 4-month Trial

4 USB Ports
Doubling Down on Driver Assistance
The Crosstrek Limited possesses the following Driver Assist Features, tremendously enhancing your safety on the road:
EyeSight Driver Assist Technology with Pre-Collision Braking

Blind-Spot Detection and Rear Cross-Traffic Alert

Reverse Automatic Braking System

LED Steering Responsive Headlights with Automatic Height Adjustment

High Beam Assist
Finally, the Rear Seat Reminder ensures that backseat passengers remain safe along with the driver.
Other Optional Features Offered with the Crosstrek Limited:
Power Moonroof

SUBARU STARLINK 8.0-inch Multimedia Navigation:

Voice-Activated GPS Navigation System by TomTom® with 3 Years of Free Map Updates:

SiriusXM Traffic® with Free 3-year Trial
Harman Kardon® 432-watt-equivalent Amplifier and 8 Speakers
Hours
Monday

8:30am - 7:00pm

Tuesday

8:30am - 7:00pm

Wednesday

8:30am - 7:00pm

Thursday

8:30am - 7:00pm

Friday

8:30am - 6:00pm

Saturday

8:30am - 6:00pm

Sunday

Closed
Make an Inquiry