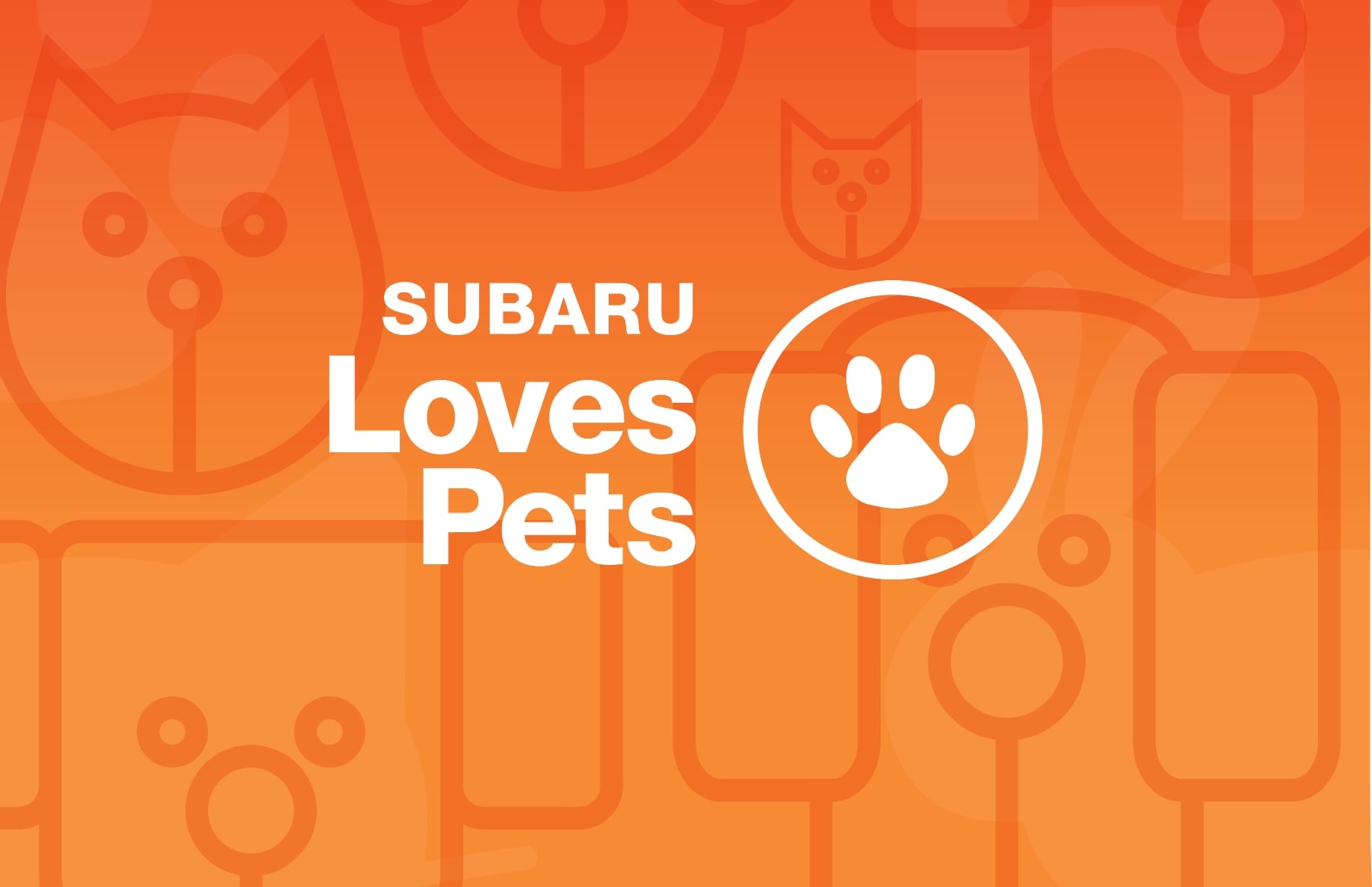 Subaru Loves Pets
Subaru's love promise is mainly about being "more" than the sum of its cars' parts. The company centers much of its focus on bettering surrounding communities by combining efforts with all retailers.
It's an approach that's led to a vast number of partnerships with a diverse range of organizations, many of them being not-for-profit.
This kind of outreach is more prevalent than ever for Subaru, highlighted by its passionate commitment to the "Subaru Loves Pets" initiative.
Dedicated to a Better Life for Pets in Need
How much does Subaru, as an organization, love pets?
So much so that, since 2015, through its "Subaru Loves Pets" initiative that partners with local animal welfare organizations, the company has aided 144,000 animals in need across the US.
For example, Subaru has donated nearly $22 million to the ASPCA® (American Society for the Prevention of Cruelty to Animals®). Also, they've helped support over 1,500 animal welfare-related events.
Furthermore, Subaru has invested plenty of resources into two separate studies centered around keeping pets safe on the road. These studies have helped with establishing a framework for crate and carrier crashworthiness and top-performing products.
Subaru's pet-centric initiatives are seemingly endless, but they're highlighted most by the Subaru Loves Pets event that occurs every October. During this time, retailers collect new pet supplies that they'll donate to local animal organizations in the surrounding communities. This means an increase in shelter supply kits for pets in need of a home, as well as starter kits for families new to adopting pets.
It is a point of pride for most retailers to do their part in contributing to this event-a notion that is doubly true at Lee's Summit Subaru. We've played a pivotal role in bolstering Subaru's grander initiative through an array of community-based campaigns.
How Has Lee's Summit Done Our Part to Better the Lives of Pets?
First and foremost, at Lee's Summit Subaru, we accept donations all year for Midwest Animal Resq, a local animal shelter.
Beyond that, we partner with Midwest Animal Resq every year to hold a pet adoption event. During the proceedings, our customers are welcome to bring in donations. In exchange, they'll receive some "Subie Swag," plus an entry to win a grand prize.
Most importantly, Midwest Animal Resq will be bringing in many of the dogs they'll have available for adoption.
We also have a booth at "Dogtoberfest," an annual October event, where we'll also be accepting donations to Midwest Animal Resq. You can come by, visit, and get some more "Subie Swag." Then, you can enter a contest for another giveaway item, all while contributing to a cause close to all pet-lovers' hearts.
What Kind of Items Can You Donate?
If we've caught your attention and you're looking for a way to help out, here are some items that we suggest donating to the Midwest Animal Resq:
White copier paper

Kong toys (medium-large)

High-efficiency liquid laundry detergent

Clorox brand bleach

Paper towels

New dog collars and leashes

Cat treats

Soft dog treats used for training

Small and medium dog biscuits

Gift cards for stores with pet items
Other ideal donation items are toys for cats and dogs, rope-style slip leads, large dog toys, large/extra-large litter boxes with hoods.
This only scratches the surface of potential donations you can make-if you're unsure, feel free to contact us and ask!
Lee's Summit Subaru Loves Pets
Pets - more specifically, the love of pets - is a deeply ingrained aspect of our culture at Lee's Summit Subaru. Our love of four-legged, furry creatures is so vast that we included a dog park at our dealership when we expanded our facility.
Now, our valued customers can bring their pets along when they want to come and look at our fantastic selection of vehicles. We even have dog treats and water bowls available for such an occasion!
Hours
Monday

8:30am - 7:00pm

Tuesday

8:30am - 7:00pm

Wednesday

8:30am - 7:00pm

Thursday

8:30am - 7:00pm

Friday

8:30am - 6:00pm

Saturday

8:30am - 6:00pm

Sunday

Closed
Make an Inquiry