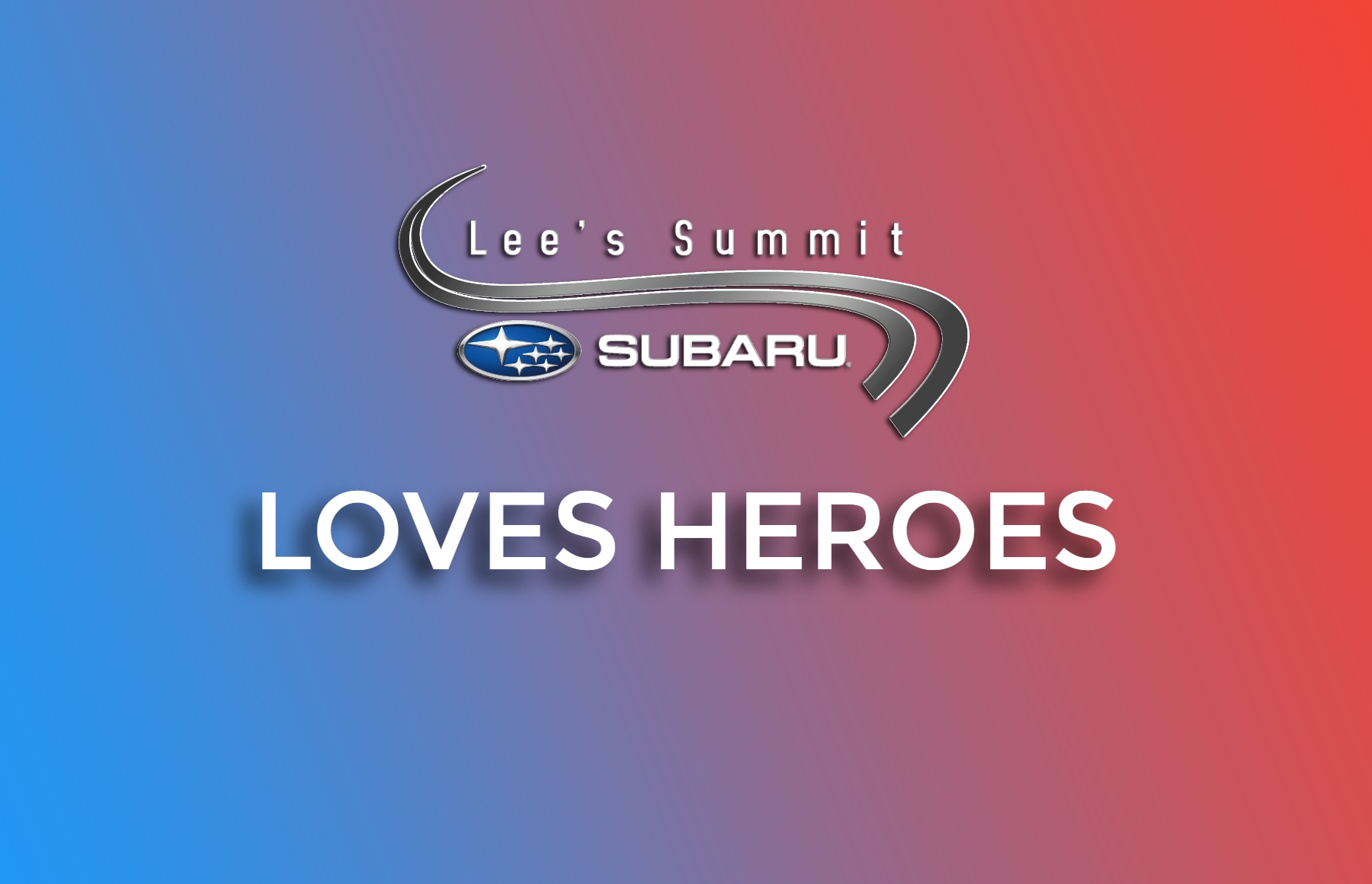 Lee's Summit Subaru Loves Heroes
At Lee's Summit Subaru, we are unwaveringly passionate about Subaru vehicles and all the value they bring to our customers.
Our objective is to ensure anybody throughout the community who drives a Subaru ends up in a reliable, safe vehicle that drives like a dream. While this outlook is integral to our ability to flourish as a business, such an approach doesn't consume us. 
Understandably, this might seem counterintuitive. Shouldn't we live, eat, sleep, and breathe all things automobile? 
In a sense, yes. But that's a touch short-sighted.  
We must make room for other priorities that inspire us to be better.
Beyond that, there's a need for some healthy perspective. We are afforded the freedom to flourish as an establishment that other nations don't have.
The fact is, we have the luxury to make waves as a business because of our veterans and first responders.
These heroes sacrifice their own well-being so that we're all safe to live our lives and make something of ourselves.
Furthermore, as a Subaru retailer, we can't help but be drawn to people who make us feel safe. After all, that's what we offer our customers when they leave our dealership in one of our high-performing automobiles.
So, back in 2018, we embarked on a fulfilling partnership with local Non-Profit Organizations, Our Brother's Keeper and FISH (Friends in Service of Heroes). Their missions focus on helping veterans and first responders by better addressing the suicide epidemic amongst them.
Making the World a Better Place with Subaru's Love Promise
Subaru, as an entire organization, has an initiative referred to as the Love Promise. Like most other retailers within the brand, the Lee's Summit location is greatly influenced by this vision. It's all about making the world a better place. 
Much of this methodology is apparent in our vehicles' construction - rooted in fuel-efficiency and eco-friendly manufacturing. 
Following the example of Subaru's Love Promise and its many facets, we decided to carve our own niche in a similar vein. Namely, we began contributing to Our Brother's Keeper and FISH.
Delving into Our Brother's Keeper
Our Brother's Keeper aims to offer what most charities don't. Those involved are committed to education and outreach initiatives for veterans and first responders. This inspiring non-profit organization provides immense support through honor, courage, and its vast organizational networks.
Timing is everything for Our Brother's Keeper. It goes beyond trying to help our Heroes through turmoil. The objective is to intervene when it is needed most.  
America's veterans and first responders face an array of emotional challenges and societal boundaries. With Our Brother's Keeper resources, there's a chance to save the lives of those in need. Heroes' circumstances can be improved tomorrow, and we can win the battle against the suicide epidemic.   
Examining Friends in Service of Heroes
FISH has established itself as an advocate for America's heroes, encouraging everyday people to appreciate veterans and first responders.
Through its fundraising efforts, FISH has provided the following resources to our heroes:
29 service dogs with specialty training.

8 customized wheelchairs for double amputees.

30 power mobility scooters.

Meals for over 8000 veterans and their families. 

Financial assistance for 900-plus veterans and families.
We're only scratching the surface with these contributions-but the dedication shown by FISH has motivated us to give back to our heroes.
How Has Lee's Summit Subaru Helped Our Heroes?
Each year, both FISH and Our Brother's Keeper put on a Ride to End Veteran Suicide.
It's meant to raise awareness about the unseen battle many veterans and first responders deal with every day.
There are raffles, auctions, a 50/50 draw, a live band, and delicious food-all in the name of bettering the lives of our struggling heroes.
Why is this event so critical?
According to a 2019 National Veteran Suicide Prevention Annual Report, veteran suicide rates were 1.5 times the rate of non-veteran adults. 
The same report cited how 13.5% of all suicide deaths involve veterans. Most concerning is that these heroes only comprise 7.9% of the US adult population. These numbers are as disproportionate as they are disturbing.  
At Lee's Summit Subaru, we've had the honor of donating vehicles to some veterans and first responders in need. But these contributions don't begin and end at the Ride to End Veteran Suicide.
We're committed to helping year-round, providing free services to our heroes. Plus, we ensure that our customer-base is informed about this initiative. Upon hearing about our partnership, our clients frequently feel empowered to donate their vehicles instead of trading in when buying an upgraded model.
Giving Back to Those Who Keep Us Safe
Safety is a top priority for any Subaru employee-a philosophy we're glad to live by at the Lee's Summit Location.
But this notion doesn't only revolve around our top-performing automobiles. Instead, we highly revere the heroes that keep us safe and give us the freedom to work in an industry that we love.
For those veterans and first responders in need of a helping hand, we're honored to do our part and give them their required support. 
Hours
Monday

8:30am - 7:00pm

Tuesday

8:30am - 7:00pm

Wednesday

8:30am - 7:00pm

Thursday

8:30am - 7:00pm

Friday

8:30am - 6:00pm

Saturday

8:30am - 6:00pm

Sunday

Closed
Make an Inquiry