Top 5 Reasons to Upgrade Your Subaru With STARLINK
Driving can be so much more than just a trip from a to b (or, if you have children, you'll also end up going to c then d, e, f, and g).

Of course, if you drive a Subaru, you already appreciate the smoothness of the ride, the responsive braking, the quality steering, and so forth. But those factors are more to do with getting you where you need to go.
What about what happens in between a to b?
Sure, the radio's a nice distraction, and you probably have a jack for your smartphone to listen to podcasts and music. Still, these things are a bunch of individual functions that don't quite offer the comprehensively comfortable, safe, secure, and engaging driving experience you seek.
Well, with Subaru's STARLINK in-vehicle technology, all the factors that contribute to an enhanced driving experience are interlinked through a savvy suite of connected tools.
Read below, and find out five distinct benefits of upgrading your Subaru with STARLINK:
1. Improved Safety and Security
There is no more significant luxury in life than the peace of mind in knowing you're safe and secure.
With STARLINK's state-of-the-art safety and security features, you'll have seamless access to emergency services. Whether you're in your vehicle, at your computer, or on your mobile device, you'll have access to the following services:

Automatic Collision Notification

Enhanced Roadside Assistance

Stolen Vehicle Recovery

Remote Services

Vehicle Diagnostic Alerts

More
Anything can happen on the road—and there's nothing worse than feeling alone in your time of need.
From severe collisions, all the way to fender benders and breakdowns, STARLINK will be with you every step of the way—helping you through these situations.
Really though, we're only scratching the surface with STARLINK's incredible array of safety and security features.
2. Engaging Multimedia Services
One of the most glaring issues of listening to podcasts or music on your smartphone through auxiliary cords while driving is the need to use your hands to operate the devices involved.
It's distracting as a driver and takes your eyes off the road, somewhat limiting your freedom with what you can listen to.
STARLINK Multimedia solves that problem for you with its advanced connectivity, boasting wireless pairing through Apple CarPlay®, Android Auto™, and Pandora® integration.
This way, you can access your favorite content while driving without taking your eyes off the road. Therefore, you're ensured to arrive at your destination safely, soundly, and thoroughly entertained.
You can access news, navigation, music, podcasts, and more, through available STARLINK apps.
3. Seamless Wi-Fi Accessibility
A Subaru is always an excellent choice for drivers that carpool, or if you have children.
And in some ways, your car is a lot like your home. You're playing something of a host and ensuring passengers enjoy their time in your vehicle.
If you regularly drive with passengers, you can optimize their experience, and they'll appreciate your graciousness as their "host."
The Wi-Fi connectivity offered by STARLINK uses the 4G LTE Wi-Fi hotspot. Furthermore, your passengers can stream and share their content. In fact, the strength of the connection is so robust that it's available for up to eight devices.
It's then a matter of a few clicks of a button for everyone to stream TV shows, movies, and music, or play games, and check email, amongst several other features.
4. Flexible Starlink Pricing Options
People's needs are rarely ever one-size-fits-all. There are potentially going to be some features of STARLINK that aren't a necessity for you. It wouldn't make sense to pay for aspects of the system that you plainly don't use.
Conversely, you might see all the available functionality of the in-vehicle technology and feel like you must have everything, from top to bottom.
Either way, the flexible pricing packages for STARLINK have you covered, and are offered on a three-to-seven-year basis.
It all starts with our Safety Plus package for three years, which is 100% FREE. However, the services are incredibly limited.
Whereas Concierge is our most comprehensive offer. It's still quite affordable, even if you pay for 7 years - which will cost $575.85. This package offers the most diverse level of features that ensure the most comfortable and connective driving experiences imaginable.
In between is our Security Plus Package, which starts at $74.95 for three years.
Keep in mind, all the benefits of STARLINK we've discussed are bolstered when you upgrade your package.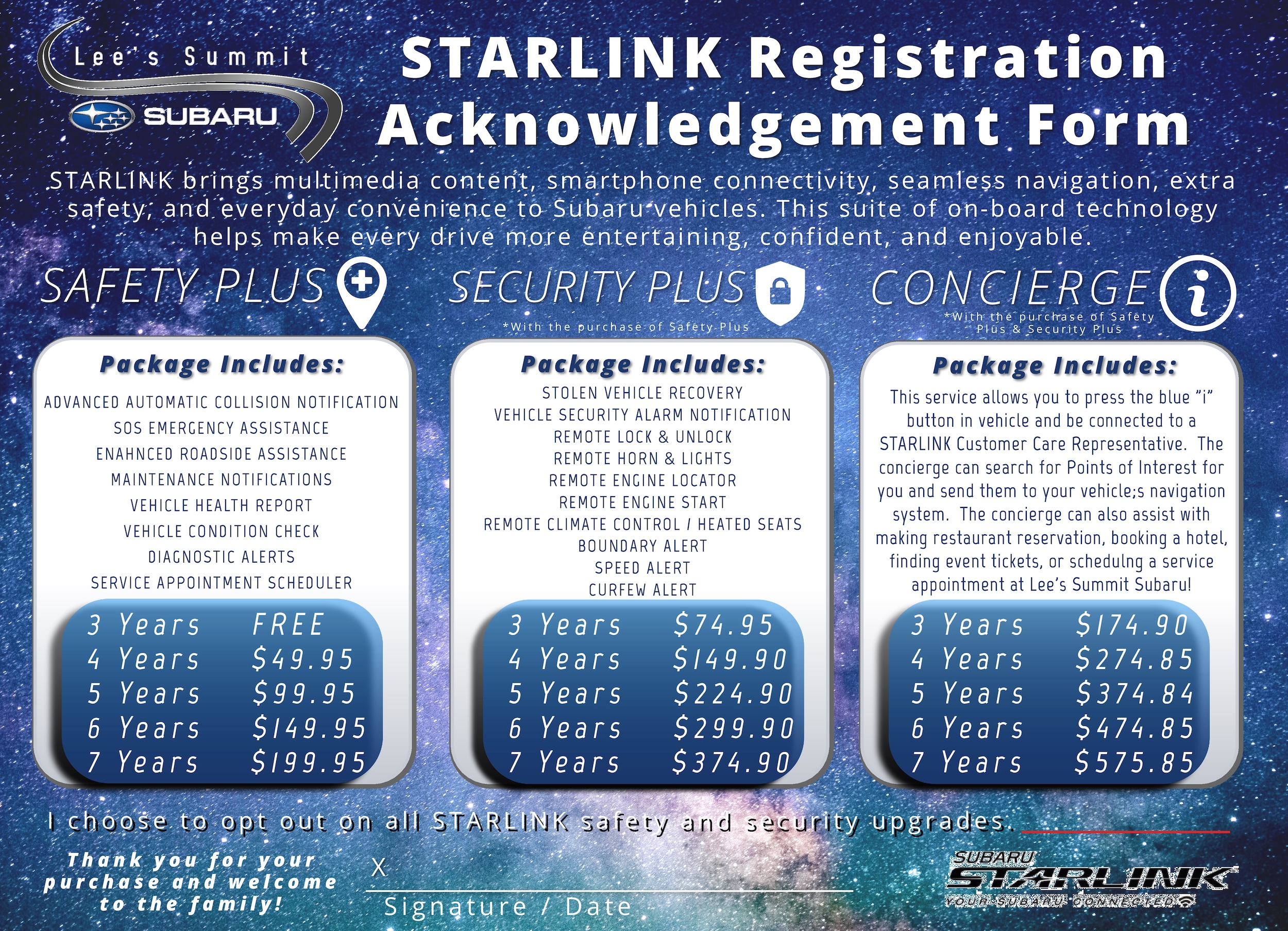 5. It'll Increase the Shelf-Life of Your Vehicle
Life gets busy, and it's understandable to forget about one of the multitudes of important things you must do.
For instance, getting your vehicle serviced on a scheduled maintenance basis is a must to extract the most value out of it. Sadly, matters such as work, family, and life's other surprises can get in the way and let such a crucial thing slip your mind.
With STARLINK, it's possible to receive reminders via the MySubaru app of scheduled maintenance services for your vehicle. This feature will help you keep your Subaru running smoothly for years to come.
We'll leave you on one parting note we wish to repeat. By upgrading your STARLINK package as much as possible, you'll be amazed at how much the connectivity features enhance your in-vehicle experience.