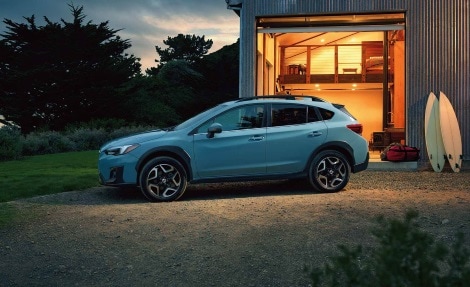 This year's model of the Crosstrek once again builds on the common elements buyers had desired in the small car category, and now includes all-wheel-drive that comes standard, as well as ground clearance that has been upgraded to 8.7 inches.
While technically speaking the Crosstrek is regarded as a compact crossover, in reality, it works as a five-door lifted Impreza that includes extra cladding, off-road traction, and upgraded wheels. Combining all these elements, Subaru increases its off-road performance and can be seen as comparable to the RAV4 Adventure from Toyota, as well as Jeep's Compass Trailhawk, though with compact car amenities and comfort. You may be surprised to learn that even though it has standard all-wheel drive, the fuel economy of the Crosstrek is at the tops in its category both in highway and city with its CVT transmission, which can be added on as an option. Also competitive is the price and safety assists, which comes as the EyeSight suite.
Now let's talk about its specific features. Think of the Crosstrek as a jack-of-all-trades when compared to its rivals. The Crosstrek has plenty of interior room to hold plenty of cargo and passengers, extensive safety features, and an incredibly smooth ride. The all-wheel-drive, 8.7-inch clearance and raised suspension also come standard. Poor weather and off-roading are no problem for the Crosstrek.
Let's look at the changes that came to the 2019 model from an equipment perspective through the different trims. Eyesight, the driver safety system, begins with the base 2.0i that comes with a CVT and contains a superior automatic reverse braking system as well as high beam assists, both made standard with the Limited. The Premium trim audio upgrades to satellite radio through SiriusXM and a single-disc CD system. Future plans for the Crosstrek is to provide better performance and mileage by converting it into a plug-in hybrid.
Choose your Kansas City Subaru Crosstrek
As for the trims, there are three specific models to discuss. The 2019 Crosstrek comes in 2.0i, 2.0i Premium, and caps off with the 2.0i Limited. The standard and Premium come with a standard six-speed transmission, and the Limited upgrades that with a CVT automatic standard, but this is available as an add-on for 2.0i and the Premium.
The 2.0i comes in at an affordable $22,870. For that, you can get the standard six-speed transmission, power windows, locks, and side mirrors, remote keyless entry, a 6.5-inch touchscreen radio through STARLINK (and a USB port and four speakers to boot), review monitoring, cruise control, air conditioning, a folding rear seat with 60/40 split, multi-function display, Bluetooth, raised roof rails, tilt-telescopic steering, and 17-inch alloy wheels. The only options available for the 2.0i are CVT transmission and EyeSight.
At around $23,770, the 2.0i Premium is the next step up, and again contains a wide variety of standard features while remaining affordable. The upgrades from 2.0i include fog lights, an All-Weather package (deicer, heated side mirrors, and heated front seats), two more speakers to assist STARLINK's audio, vanity mirrors with illuminated visor, side mirror caps that comes color-keyed, a retractable cover to the also-new rear cargo tray, automatic on/off headlights, and a steering wheel wrapped in leather.
Of course, there are optional upgrades but it comes with the CVT automatic transmission and X-mode. There are a few package bundles. First is EyeSight driver assist, which is a suite containing a lane-departure warning, automatic emergency braking, lane-keeping assist, adaptive cruise control, power moonroof, rear cross-traffic indicators, and a blind spot monitor. For the audio system, you can upgrade to the Rockford-Fosgate amp and speaker system. Dealers can also add on remote start, rear bumper covers, remote start, mudguards, and protective side molding.
The top upgrade, 2.0i Limited, checks in at a base price of $28,170. It already comes with X-mode, CVT automatic transmission, and Eyesight that we are familiar with. Next, leather seating, paddle shifters for the steering wheel, rear cross-traffic alerts, responsive headlights for LED steering, auto climate controls, side-mirror turn signals, high beam assist, power driver's seat, 18-inch alloy wheels, keyless start through a push button, a PIN access system, rear armrests that not only fold but also can function as cup holders, and blind spot monitoring. For the entertainment on board, the SiriusXM system comes with a massive 8.0-inch touchscreen, a 4.2-inch LCD, and a 6.3-inch multifunction display. Further options upgrade from this audio system to the Harman Kardon system, a power moonroof, and navigation.
Performance
Subaru presents just one engine choice for the Crosstrek: a 2.0-liter boxer with 145 pounds per foot of torque and 152 horsepower. Each trim includes symmetrical all-wheel-drive. Manual transmission options come with a mechanical coupling center differential for the all-wheel-drive, in order to distribute power equally to the front and rear. A Crosstrek with CVT automatic is capable of varying the distribution of the torque in order to gain better traction, and with the X-mode, has control for hill descents. Gas mileage rates at 23 miles per gallon in the city, and 29 for the highway with the six-speed manual. With the CVT, the mileage increases to 27 in the city and up to 33 on the highway. These figures are EPA-estimated.
Safety
Safety is an important feature with all models of the Crosstrek with Subaru EyeSight. Coming standard are anti-lock brakes, seven multi-location airbags (front, front, and rear side curtain, front side-impact, and driver's knee), rearview mirror, and stability control for the electronic traction. Options include lane-keeping assist and lane-departure warning, adaptive cruise control, and automatic braking. Headlight systems help see in the darkest of conditions, with high-beam assist and steering-responsive headlights. Furthermore, the reverse automatic braking assists the driver in avoiding collisions while in reverse.
Using crash test data, The National Highway Traffic Safety Administration and the Insurance Institute for Highway Safety gave the Crosstrek top marks in nearly all categories. The government awarded it five stars overall, and when the EyeSight system is added on, the IIHS regards it as one of their Top Safety Picks.
After upgrades and last year's interior and exterior restyling, the 2019 Crosstrek is almost a complete makeover from its origin in 2013 as the XV Crosstrek. In fact, when comparing the two models, the 2019 model contains 95 percent new materials. This is now the fourth vehicle based on the Subaru Global Platform; the prior models being the 2019 Forester, 2019 Impreza, and 2019 Ascent.