If you've lived in the Kansas City area anytime in the past 40 years, you surely have heard of Lee's Summit Subaru. Our dealership has served the fine people of Kansas City for over four decades and is proud to be a member of a great community. For those new to Lee's Summit and the surrounding areas and are in the market for a vehicle, we invite you to come on down to Lee's Summit Subaru.
Reason 1: Affordable Pricing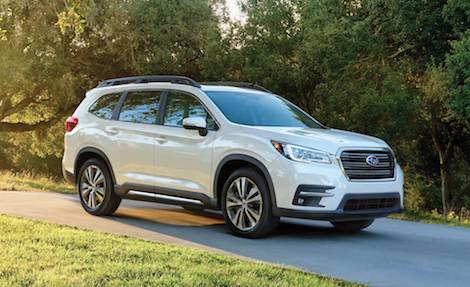 Lee's Summit Subaru dealership has some of the lowest prices around. You'd be hard-pressed to find more affordable cars than what you see on our lot. Not only are our vehicles priced competitively, but we also offer an Internet Sales Price through our website on most used models. Customers can save over two thousand dollars when they take advantage of our Internet Sales Price.
We also offer low down payments for new and used car purchases, as well as reasonably priced monthly payments. You'll definitely drive away with a smile on your face when you buy a vehicle from Lee's Summit Subaru.
Reason 2: We Make Car Buying Fun Again
At Kansas City Subaru dealership Lee's Summit Subaru, we value all of our customers. We promise to treat you like we would want to be treated. Each of our well-trained and knowledgeable sales managers strives to make you (the customer) feel valued and respected. We won't rush you into making a new purchase that you may regret later. Buying a car is a serious and lifelong decision in some cases. That's why everyone at Lee's Summit Subaru makes sure you're well informed and gives you all the time you need to look over our inventory.
We also keep our website up-to-date with the latest inventory so you can do all the your research from the comfort of your home before coming down to the dealership. Once you've picked the vehicle of your dreams you'll discover competitive, hassle-free financing at our financing center. We work with over 50 lenders to guarantee that you'll get approved for a car loan and drive away the same day with a Subaru of your choosing.
When you buy a car from Lee's Summit Subaru you can expect a painless and short process. Some of our customers have bought a new car in less than two hours. We make paperwork and financing the hassle-free experience we all want from a dealership. At Lee's Summit Subaru, we've made financing fast and easy with credit options that fit your budget. Our finance application can also be found online.
After handing you the keys, our experienced sales representatives are trained to give every new customer detailed information on how to take care of their new Subaru. From what to do for the first 1,000 miles, how to operate the Subaru, to using EyeSight to connect a smartphone to Star Link, it's our sales representatives job to prepare you for the road ahead.
Reason 3: A Truly Unbeatable and Large Selection of Subaru Vehicles
From the Ascent to the WRX, if it's a Subaru you'll find it here at Lee's Summit Subaru. We have a wide selection of all the newest trims and newest models, like the 2019 Subaru Impreza and the 2019 Subaru Ascent Premium. These new models are outfitted with all the safety features and improved technology one would expect from today's automobiles.
Speaking of safety, the 2019 Subaru Ascent received the highest safety rating from the Insurance Institute for Highway Safety or the IIHS.
But just because it's a new year doesn't mean that we've completely thrown out the old. We also offer previous model Subarus as far back as the 2015 Subaru XV Crosstrek. Like any good dealership, Lee's Summit Subaru is complete with a wide range of pre-owned vehicles, as well.
Reason 4: One of a Kind Subaru Trade-in Program
Available at Lee's Summit Subaru is our Subaru Guaranteed Trade-In Program. Through our Subaru Guaranteed Trade-In Program, we put you (the customer) first. When you trade-in your Subaru with Lee's Summit Subaru, we'll provide you with the highest possible trade-in value at no extra cost to you. This offer is just another reason why it's great to own a Subaru. No hassle or questions asked.
Our Subaru Guaranteed Trade-In Program is only available with the purchase of a new later-model-year Subaru. The Subaru Guaranteed Trade-In Program kicks in after the first twelve months of ownership for no more than eight years of the vehicle's original warranty start date.
Reason 5: Professional Repair and Service
It may be tempting to take your Subaru down to a local mechanic when problems arise. Maybe you've had bad experiences with previous dealers or felt that you were overcharged. We've all been there. But here at Lee's Summit Subaru, we guarantee that your vehicle will receive the professional care it needs at reasonable prices. That's why we encourage you to have your vehicle serviced by us.
Our knowledgeable, highly trained Subaru technicians know the ins-and-outs of every Subaru. If a part needs replacing you can count on us to replace it with a factory-backed component, not a low quality third-party part that another mechanic may order. While these third-party parts may be cheaper, they can cause even more problems in the long run. Being a Subaru dealership means that we have access to all certified Subaru parts required for every mechanical issue.
The technicians at Lee's Summit Subaru will keep your Subaru well maintained while providing inexpensive, periodic maintenance to keep your vehicle running as smooth as the day you bought it.
We won't have you waiting long either. Our technicians work efficiently and effectively on every vehicle. We know how important your vehicle is in your everyday life. That's why our technicians work diligently to get you back on the road as soon as possible.
These are just some of the reasons why Lee's Summit Subaru should be first on your list of dealerships in the Kansas City area. There are many more reasons that you'll discover once you come on down to Lee's Summit Subaru located at 2101 NE Independence Ave Lees Summit, MO 64064!