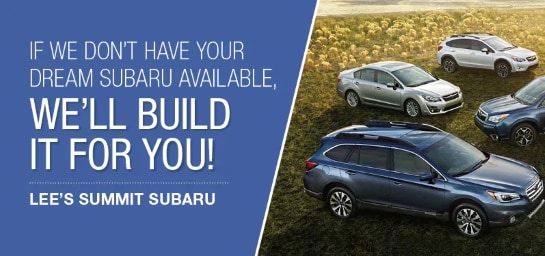 Sometimes a person comes into Lee's Summit Subaru looking for the PERFECT car, and though they have a wide selection of vehicles from which to choose, sometimes only the right car will do. In these special cases, Lee's Summit Subaru has the perfect solution - building your own Subaru to fit your exact specifications!
First, you'll have to think about what model Subaru you'd like to build. Are you going to be using your Subaru for family trips and school drop-offs? Then the
Subaru Outback
might be what you're looking for. It has plenty of room for all the backpacks and sports gear, and it has loads of safety features so you don't have to worry about the precious cargo you're driving around.
Maybe the family life is a few years away, or a few years in the past, and you're looking for that sporty car you've never had. Why not build your very own
Subaru WRX
from the ground up? It has plenty of get up and go for the avid driver and you'll never have a problem with responsiveness with its 305-horsepower engine.
Alternatively, perhaps you're a cost-conscious car buyer and want the best choice on a smaller budget. The Subaru Impreza is just the compact car for you. With a peppy 2.0-liter, four-cylinder engine, it packs a punch for not a lot of money. The sedan model is roomy enough for a small family and the hatchback is perfect for that first car for the newest driver in your family. With lots of models to choose from, there's a perfect Subaru model out there for every car buyer looking to build their dream car at Lee's Summit Subaru!
Customizing Your Subaru for the Perfect Vehicle
So you've managed to pick out the perfect model for your needs and now you want to customize it and make it all your own. Where do you start? At Lee's Summit Subaru, every aspect of your new Subaru can be customized! Where to begin? How about the color of your new car? Are you someone who likes to make an impression on the road? Then a fire engine red car might be in your future. Prefer to blend in? How about a steel grey model? The sky's the limit!
The color's perfect, but what about those safety features? You have lots from which to choose! If you live in a more rural area, it can be hard to see at night. Why not choose Subaru's LED Steering Responsive Headlights and High Beam Assist option? With the responsive headlights, your car will automatically determine which direction you're turning and where to focus the beam of light, and with the high beam assist, you never have to worry about blinding an oncoming driver. In addition, while a rear-vision camera comes standard with every Subaru model, you can optionally choose the Reverse Automatic Braking system if you have a tendency to accidentally hit those trash cans at the end of your driveway!
So you have the exterior of your dream Subaru figured out, so what about the interior features? There are so many to choose from, and your Lee's Summit Subaru sales representative will be there to guide through them all every step of the way! Are you going to have many different drivers in your new car? Do you hate the thought of having to reset exactly where you need the driver seat to be each time you drive? Why not opt for power seats with memory, so that the exact position of both drivers and passengers can be programmed for easy access? No more wasting time trying to get that position just right!
Not every option has to be completely practical, right? If you choose the Outback as your model, you have the option for a state-of-the-art Harman Kardon sound system. Complete with 12 speakers and a 576-watt-equivalent amplifier, this system is perfect for those long family trips or those Friday afternoons after work when you just want to roll down the windows and rock out to your favorite weekend song.
If you decide to go with the Impreza instead, you should definitely check out the Wi-Fi option. We value safety first here at Subaru, so this feature is clearly intended for the passengers in your car, but with this, they can stay connected to family and friends, and share content in real-time. In addition, the Subaru Starlink system is a perfect upgrade for your Impreza, particularly if safety and convenience are your primary concerns. With Roadside Assistance, Collision Notification, and Stolen Vehicle Recovery system, you'll be confident knowing that your brand new car, and the people inside it, are safe and sound. Moreover, for your convenience, the Starlink system also comes complete with remote engine start with climate control and a personal concierge system that can lead you to the best restaurants you've never heard of, or that important appointment on the other side of town.
In addition, if you're in the market for the WRX, why not go the full route and opt for the Performance Package, complete with a high-performance braking system, for when you want to let the engine out a bit and performance-designed front seats for those exciting drives! And to go with these features, Subaru's Sport Lineartronic Transmission is available, which allows for a perfect combination of automatic and six- or eight-speed manual transmission modes, ideal for the more seasoned drivers.
Now imagine this - you've worked hard with your friends at Lee's Summit Subaru on creating your dream car and now all you have to do is sit back and wait for that call. They do the rest, and when your car is ready, you just come on down and pick it up. No fuss, no muss! So don't bother with the competitors, all of whom will give you one or two choices on their lots and try to force you into a car you really don't want and won't like. Come to Lee's Summit Subaru and design the perfect car for all your driving needs!