It's that time of the year again where Lee's Summit Subaru works together with the beloved local animal rescue charity Midwest Animal ResQ to help with the adoption of cute dogs and cats to new loving families. Mark your calendar – Friday, May 18, 2018, at Lee's Summit Subaru in Lee's Summit. The exciting event runs from 4 pm to 8 pm.
We will have our famous three-pig barbeque, catering to all of our hungry guests - free for everyone who comes out!
For those visitors who want to help save some cute pets while also checking out the latest Subaru has to offer – we salute you! In fact, we're offering free giveaways on the day and a FREE TREE with every test drive!
Everyone who gets involved will be entered into a drawing for a FREE Subaru Super Cooler, valued over $500! This limited edition cooler not only keeps your food and drinks cold; it includes a 370-watt audio sound system, bluetooth enabled, and even a jack to plug in your microphone for a karaoke session. It's the ultimate cooler for a barbeque or trip out into the Kansas and Missouri countryside in an award-winning Subaru vehicle.
What Does Midwest Animal ResQ Do?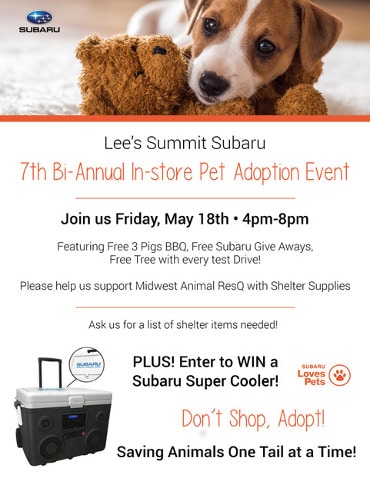 Since 2009, Midwest Animal ResQ has been rescuing dogs from inhumane conditions, in particular saving them from puppy mills and large-scale breeding facilities. Initially focused only on those unfortunate dogs, now with support from the community and businesses like Lee's Summit Subaru, Midwest Animal ResQ has grown into a rescue group that saves a wide range of animals in the Kansas City area. In 2015, the Midwest Animal ResQ adoption center was opened in Raytown, MO. It serves as a sanctuary for animals that need time to recover from living in inhumane conditions. These animals often need special behavioral help or medical attention before they are ready for their new, loving home.
While at Midwest Animal ResQ, animals are fed with locally grown produce from Nature's Select Pet Foods, they have daily socialization, playgroups with other animals, and they are taught basic training and manners.
Midwest Animal ResQ also works with an incredible network of fosters who look after these poor animals until their true home is finally found. Stray dogs in Raytown that are unclaimed are saved from death thanks to Midwest Animal ResQ, and Raytown is considered a no-kill city thanks to Midwest Animal ResQ, the fosters, and your donations.
Choosing to adopt from Midwest Animal ResQ means you will be adopting an animal that has had full veterinary exams, has had all vaccinations appropriate for the animal's age and is microchipped. Comprehensive pet care coverage is also available direct from Midwest Animal ResQ.
Midwest Animal ResQ is conscious that the adoption process is a two-way street – you need to be happy with your new family member and they need to be happy being there! It is for this reason that pets going to a new family will first start there on a two-week trial to ensure that the new family unit is perfect for all involved.
The adoption center is open to the public between Wednesday and Friday 4 pm to 7 pm, and on Saturday and Sunday between 10 am and 5 pm.
What Does Midwest Animal ResQ Need?
Running a non-profit animal rescue group isn't easy and requires support from animal lovers like you. Midwest Animal ResQ has let us know the top items they would absolutely love to receive, and there are as follows:
White copier paper
Kong toys (medium-large)
High-efficiency liquid laundry detergent
Clorox brand bleach
Paper towels
New dog collars and leashes (they're particularly short on small and medium sizes at the moment)
Cat treats
Soft dog treats used for training
Dog biscuits (small and medium)
Gift cards for stores that sell items for pets (such as Home Depot, Lowe's, Petco, Brookside Barkery & Bath, Costco, Target, Sam's Club, and PetSmart)
Other items that are much appreciated are toys for cats and dogs, rope-style slip leads, large dog toys, large and extra-large litter boxes with hoods, large ceramic food bowls, waterproof grooming aprons, towels, hand towels, washcloths, 32-ounce spray bottles, OdoBan, digital weight scales for kittens and puppies, and digital thermometers.
Of course, many other items are sorely needed. Dog collars, cat donut beds, dry cat and dog food in unopened bags, high-grade pet shampoo, 6-foot and 11-foot white tables, sponges, scouring pads, batteries, stamps, and Air Wick plug-in refills are other ideas for donations.
You can donate to specific causes at Midwest Animal ResQ. Donate to the Jellybean fund to help rescue dogs from bad breeding facilities. Donate to the Special Needs Medical Fund for those animals that need extensive medical care. Otherwise, simply donate to the general fund to benefit all animals rescued at Midwest Animal ResQ. All donations are tax-deductible by law.
Furthermore, you may be able to help by donating your time rather than items. If you are an electrician, floor waxing service, brochure printer, professional banner printer, mason, or mechanic, you can choose to offer your services to Midwest Animal ResQ. Volunteers are also needed at the rescue center, so please feel free to talk to someone about this when you come into the event at Lee's Summit Subaru on Friday, May 18.
Whether you are interested in perhaps adopting a needy moggy or doggy, you want to help the cause by donating some much-needed goods, or simply want to get involved by entering the raffle and getting a load of free Subaru goodies, come to Lee's Summit Subaru between 4 pm and 8 pm on Friday, May 18. Perhaps you'll find your next lifelong friend. We'll see you here!