2018 Subaru Forester Highlights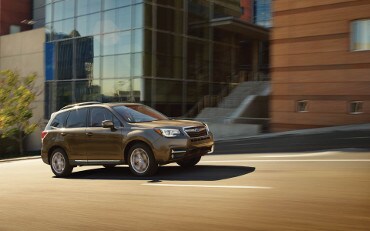 Plenty of space for cargo and passengers
The best-in-segment outward visibility on the market
Sporty 2.0XT engine
8.7 inches of ground clearance and standard all-wheel drive
Fuel Economy of up to 32 miles per gallon on the highway and 26 miles per gallon in the city
IIHS 2017 Top Safety Pick
Five-star NHTSA safety rating
Optional heated seating, heated steering, and automatic climate control
New Black Edition for the 2.5i
All Touring models now come with the latest technology in Eyesight Driver Assistance, reverse auto brakes, and high beam assistance.
Active Torque Vectoring is standard on the 2.0XT model
Summary
The new Forester for sale in Kansas City is one of Subaru's well known and bestselling models. It comes in at smaller than the Crosstrek yet larger than the Outback. Test the limits of your Forester both on- and off-road with standard all-wheel drive and push for speed with the exclusive turbocharged engine available only in the XT model. The Forester's sleek design fits in in traditional settings and proves to be one of the most competitive compact crossovers on the market today.
Featuring wide side windows and a high roof, the 2018 Subaru Forester offers safety with a spectacular 360-degree view; ensuring that no one misses any of the action. Take the Forester anywhere with its Symmetrical All-Wheel Drive and 8.7 inches of ground clearance that will keep you going further for longer. Premium trims and manual transmission options give you the flexibility to build the car you deserve.
Boasting significant power upgrades from the base 2.5i trims, as well as upgrades to the suspension, brakes, steering, and frame, the turbocharged XT model makes for an engaging ride for all. The 2018 Forester provides premier comfort with its lavish interior, overall handling, and low noise levels.
Engine
The 2018 Subaru Forester comes equipped with a 2.5-liter boxer four-cylinder engine with a whopping 170 horsepower and 175 pounds per feet of torque. It's equipped with a continuously variable automatic transmission (CVT), and the 6-speed base model earns 32 miles per gallon on the highway and 26 miles per gallon in the city - making it one of the most fuel efficient crossovers on the market.
Premium versions come with an all-wheel-drive system that has slightly lower fuel economy projections of 28 miles per gallon on the freeway and 22 miles per gallon in the city. The XT Version, complete with a direct-injection 2.0-liter turbocharged engine, produces 258 pounds per feet of torque and 250 horsepower. It boasts a fuel economy of 27 miles per gallon on the highway and 23 miles per gallon in the city on regular gasoline.
Trims
The Premium 2.5i comes with an additional 10-way power driver's seat, raised roof rails, a rear roof spoiler, automatic climate control for your convenience, an off-road mode with the CVT addition, panoramic power moonroof, reclining rear seating, 17-inch alloy wheels, a 4.3-inch driver's display in full color, and a 7.0-inch Starlink Multimedia Plus infotainment system.
Additionally, a sport-design front facade, dual chrome exhaust outlets, LED steering responsive headlights, 18-inch wheels, a leather-trimmed upholstery, heated front seats and a heated leather steering wheel, dual-zone automatic climate control, one-touch folding rear setbacks, paddle shifters, built-in navigation with a 7-inch touchscreen, a Harman Kardon audio system, and a power liftgate are all included in the top Forester 2.0XT Touring model.
Finally, the Black Edition package adds black painted side view mirrors, 18-inch black aluminum wheels and a sport grille, fog lights, black rear badging, seat bolsters, and a shifter handle with glossy black trim.
Behind the Wheel Performance
The 2018 Subaru Forester boasts excellent acceleration and strong performance with its 2.5-liter engine. The Forester has quiet operation, and drives less like an SUV and more like a small car when it comes to steering. Electric-assisting power steering coupled with a properly weighted steering wheel makes it easier than ever to keep on track during both long and short drives. Its high ground clearance of 8.7 inches gives you the peace of mind you'll always get to your destination.
The XT trim makes for a sportier ride with larger brakes, increased spring rates, and a stiffer chassis. Its 18-inch tires help to provide smooth handling while maintaining the comfort that you deserve. The XT's turbo engine is thrilling, perfect for any who are looking for superior passing power or jackrabbit sprints.
The CVT boasts a version of SI-DRIVE with three modes: Intelligent, Sport, and Sport Shift. The latter two modes simulate a 6-8 speed gearbox and provide you with maximum response to your throttle output. You can expect acceleration of 0-60 miles per hour in just 6.2 seconds thanks to the XT.
Safety
Rated five stars by the NHTSA, the 2018 Subaru is an IIHS 2017 Top Safety Pick, receiving the highest honor in safety ratings.
The Forester performed at the highest rating of 'Good' in nearly all crash tests, a rating of 'Superior' in front-crash avoidance tests, and 'Acceptable' in headlight evaluation. All models come with built-in rearview cameras.
The Forester successfully warned the driver of possible collisions during testing and avoided 12- and 25-miles-per-hour frontal collisions in tests thanks to the Eyesight driver assist feature.
The Eyesight driver assist add-on features an emergency auto-brake system, sway warnings, and lane assistance. Additionally alerts for rear-cross traffic, high beam assistance, reverse automatic braking, and blind spot monitoring are available.
Conclusion
The Subaru Forester provides top of the line comfort, safety, and speed that can suit a wide array of needs. A variety of packages are offered that can better suit individual needs; whether they be for speed, comfort, durability, power, or performance. At Lee's Summit Subaru, we have the Kansas City Subaru Forester for you.