Subaru is a brand known for offering vehicles with exceptional handling while paying particular attention to safety features. At our Kansas City Subaru dealership in Lee's Summit, we offer the complete range of Subarus on the market today – SUVs, hatchbacks, sedans and coupes. There's a Subaru for everyone! We're ready and waiting to help you into the perfect Subaru for your lifestyle and needs.
Kansas City Subaru Crossovers & SUVs
Subaru Ascent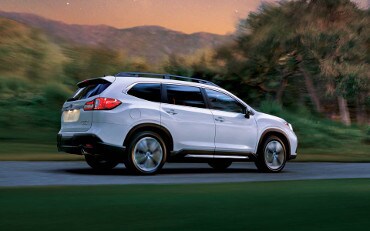 The all new Ascent is a perfect fit for your family. This vehicle features three rows with 7-passenger seating with captains chairs or 8-passenger seating with a second-row bench. Built in Wi-Fi and USB charging allows your passengers to stream online content while keeping their devices charged with one of the eight USB ports available. The panoramic moonroof provides more light and gives an even more spacious feel.
The Ascent features multiple trim levels and all come with the standard EyeSight driver assist technology. The Premium, Limited and Touring trim levels include 5,000 pound towing capacity, blind-spot detection and rear cross-traffic alert systems. The largest Subaru SUV is finally here! Schedule your test drive today.
Subaru Outback
The Outback stands apart in the crowded and rapidly growing crossover (CUV) segment not because it is another snazzy looking model - it holds its ground as a no-nonsense CUV that offers the complete package of things that actually matter, from its off-road capabilities to its excellent fuel economy. What's more, the spacious interior and updates in car technology and safety features make it all the more attractive.
While crossovers these days are generally higher riding, the Subaru Outback's roof and cargo loading heights are lower than its rivals. The A-pillars do not block the driver's view such as in the case of crossovers. The Outback thus makes for a perfect choice for people looking for comfort, practicality, and utility rolled in one.
Subaru Forester
The Forester slots in below the Outback in the compact SUV segment and is one of Subaru's best-selling models. This is largely due to its standard all-wheel drive and optional turbocharged engine. Moreover, a roomy cabin, good fuel economy, great visibility, and high ground clearance are some of the other reasons people choose the Forester.
For the 2018 model year, Subaru is also offering a new Black Edition trim of the Forester that offers luxurious leather upholstery, new cargo area, and a standard EyeSight safety pack. This makes the Forester an interesting pick for the youth market, which is a major target audience in the compact SUV segment.
Kansas City Subaru Hatchback
Subaru Impreza
The Impreza wagon is an all-wheel-drive compact five-door that offers comforting handling and great traction on wet roads. For a compact wagon, the interiors are surprisingly quiet and roomy at the same time. The wide variety of advanced driver aids is another big draw for buyers.
This model comes with two trim levels, both feature Subaru Starlink Multimedia. With better cargo capacity than most of its rivals and sporty suspension tuning makes this a solid five-door choice.
Kansas City Subaru Sedans
Subaru Legacy
The Legacy's standard all-wheel drive system makes this mid-size sedan one of the best choices for people living in rural areas of Kansas City. What's more, the safety features, the latest tech such as a 6.5- to 8-inch display with Apple CarPlay and Android Auto smartphone integration, roomy seating, comfortable ride quality, and excellent outward visibility from the driver's seat are some of its biggest assets.
Those who prefer to invest in substance over frivolous style go for the Legacy. The car's mix of features, interior room, and driving quality make the Legacy a worthwhile pick.
Subaru WRX
Young working professionals looking for a car that matches their personality and their parents' advice need look no further than the Subaru WRX. It offers standard all-wheel drive, a large trunk, and a turbocharged 2.0-liter engine.
The WRX has been awarded 2018 IIHS top safetly pick+ with excellent crash test ratings and plenty of driver aids like the EyeSight and steering responsive headlights. Furthermore, its class-leading body control, track-worthy brakes, and precise steering make the WRX a fun car to drive.
Subaru Impreza
The Impreza sedan is one of the few rare cases where the sedan may look better than the hatchback. Its stylish design offers a European feel. As for the interior, the Impreza offers a quiet and roomy ride along with an upscale dashboard and comfortable seats.
Great handling, a comfortable interior, good fuel economy, and advanced safety features make the Impreza an attractive option to consider when buying a sedan. It is polished and well equipped.
Kansas City Subaru Coupes
Subaru BRZ
With tires that stick to the road like a magnet, a firm suspension, and razor sharp steering, the BRZ is a pure joy when it comes to handling. The frame is heavily tweaked to meet this goal. In addition, the design proportions of the BRZ have a classic feel.
The BRZ tS is a limited Subaru coupe with only 500 units slated for 2018. Tuned by STI, the BRZ is the carmaker's benchmark rear-wheel-drive sports coupe. With its near flawless handling and exceptional design, The BRZ tS is a limited edition performance car certainly worth every penny.
Get in touch today to discuss any of the exciting options available only at Lee's Summit Subaru!