On paper, the Subaru Legacy for 2018 provides many similar features and equipment and costs about the same as other midsize family sedans, but its big draw is that it comes with Symmetrical All-Wheel drive as standard. This AWD offers excellent traction whether the road is wet or dry and does not make the vehicle more expensive or compromise its fuel economy figures.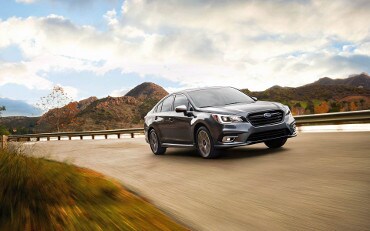 You can get the 6-cylinder engine that gives 256 horsepower and 20 miles per gallon in city driving and 28 miles per gallon on the highway but we think most Lee's Summit drivers will be quite happy with the 4-cylinder engine that gives 175 horsepower and 25 miles per gallon in city driving and 34 miles per gallon on while driving on the highway. It has enough verve and responsiveness to gratify the majority of buyers.
Its price is similar to vehicles that are only front-wheel drive, such as the Toyota Camry and the Honda Accord. It style it can compete well with vehicles such as the Ford Fusion and the Hyundai Sonata. It offers great safety as it includes the Eyesight safety program from Subaru and has an interior that verges on the luxurious. So, given Subaru's excellent history in the areas of both customer service and resale value, the Legacy certainly deserves to be considered a big league player in its segment.
The Legacy got updates for 2018 in styling, particularly at the front and back of the exterior. Inside, there is a revised instrument panel with an 8-inch display when you get the trims of Premium or higher. There is Android Auto and Apple CarPlay support on all models of the Legacy. Suspension is also upgraded and now the ride is more smooth and quiet. Any Limited model will have HID headlights that are steering responsive. You may also like the new option for an inside gray color, better multimedia abilities, and an HVAC control panel.
The cost is quite reasonable for what you get with the Legacy. It ranges from a low of $23,055 to a high of $35,000, delivering great value for a good price.
With its AWD, the Legacy certainly demands a test drive in Lee's Summit and very possibly a purchase.
Safety and Driving
Of all the midsize sedan car models on the globe, never has a recipe of safety, comfort and luxury been so well balanced in one machine. What else does one desire in a car? The youngest Subaru sedan, the 2018 Legacy 2.5i, comes second to none as far as the basic features required in a car are concerned.
Primarily, this smooth ride sedan has been designed for safety and comfort. It's a mixture of luxury and sports. It has been refined to suit the modern car buyer in an all-encompassing experience leaving almost nothing to chance.
It's therefore not by chance that two respected authorities have given this gem a clean bill of health on safety and stability. The Legacy 2.5i has been tested meticulously and has easily surpassed all the standards of the uncompromising National Highway Traffic Administration and the Independent Insurance Institute for Highway Safety. Believe it or not, it scooped a five star rating from the first and a Top Safety Pick+ from the later. This does not happen often. In fact, you could count over your fingers the number of vehicles that have attained this coveted rating.
With impact/crash and rollover controls, forward collision alert, automatic braking, side curtain airbags, lane keep assists, rear cross traffic alert, reverse automatic braking, blind spot monitoring system, anti-lock brakes – you name it, the Legacy has it.
It does not stop there. Not only is its driver's seat well placed and comfortable, but so is its passenger and rear seats. It also comes with additional features such as a backup camera, automatic headlights, navigation system, power sunroof and eyesight safety system. The Subaru Legacy 2.5i is therefore clearly not your commonplace ordinary sedan and it's worth every last coin of its price.
You might be tempted to think that with all the above attributes and more that this car guzzles a lot of fuel too. Not so with the Legacy 2.5i. You can add to the benefits a very favorable and competitive fuel economy. The 4-cylinder Legacy consumes the normal quantities of gas as other sedan or lower.
Features and Options
You can get the Subaru Legacy for 2018 in any one of four levels of trim. There is the base level 2.5i, the Premium, the Sport, and the high-end Limited model. Those who opt for the top option do not have to settle for the four-cylinder engine found on the other three but can select a six-cylinder engine if they would like.
With the basic model at $23,055, you receive wiper activating automatic headlights, a backup camera, a touchscreen of 6.5 inches with Starlink Infotainment and Security, Bluetooth, Apple CarPlay and Android Auto, audio controls on the steering wheel, and power accessories.
Going to the next level at $25,155, you find seats and mirrors that are heated, deicers for the windshield wipers, a driver seat powered ten ways to include lumbar control, climate control for two zones, and a steering wheel wrapped in leather with alloy wheels of 17 inches and a touchscreen of eight inches.
Going to the Sport at $27,205 gives you 18-inch wheels, a front grille in a dark gray, a trunk spoiler in the color of your chassis, LED fog lights, and turn signal side mirrors that fold. There is a nice two-tone interior in black with blue stitching.
At the top of the line is the luxurious trim at $29,955 for 4 cylinders and $32,805 for 6 cylinders. With this level you get high quality features, such as a Harman Kardon sound system with 12 speakers, leather seating, wood grain trim, a passenger seat that is powered four ways, keyless access and push button start, power sunroof, along with rear seats that are heated and have air conditioning vents. For safety, there is the monitoring of blind spots and a rear cross-traffic alert. You get LED headlights that are steering responsive with the 6-cylinder engine in the 3.6R Limited.
You can opt for navigation on the Legacy, along with keyless access/push-button start, powered sunroof, and the safety suite Eyesight. This gives you adaptive cruise control, automatic braking before collisions, lane stay assist, reverse auto braking, automatic high beams and blind spot monitoring. At the 2.5i Limited level, you can select HID headlights.