There is nothing like the excitement of sitting in a brand new car and smelling that new car smell. Nothing, except for the feeling you get when you sit in a used Subaru that you purchased for a significantly lower price and not had to take a depreciation hit on the value!
The second a new car is driven off the parking lot of the dealership its value plummets. A new car usually loses 20% of its value instantly and then another 10% after the first year of ownership no matter the condition the owner keeps it in. By buying a used car, you can get a quality low mileage car that has already taken most of its depreciation value hit.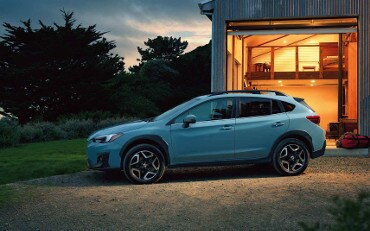 Subaru offers exceptional value to those who are in the new and used car market. Subaru has a reputation for making vehicles that withstand the ravages of time and they will most likely run trouble-free well beyond the 150,000-mile mark. Consider that out of all the cars that Subaru has sold in the last decade, over 96 percent of them can still be found driving on our nation's highways in excellent working condition.
The authority on used cars is the prestigious Kelley Blue Book. Kelley Blue Book provides information on the valuation of new and used vehicles and projects retained value through five years of ownership for each vehicle. Consumers can refer to this guide and count on this information to make informed decisions when purchasing new and used vehicles.
For the past 16 Years, Kelley Blue Book has posted its Best Resale Value Awards. These awards are based on data compiled by automotive analysts who sift through millions of transactions and build reliable statistical models that predict residual values for new vehicles and then tabulate that as a percentage of the Manufacturer's Suggested Retail Price (MSRP). These figures are then published in the yearly Kelley Blue Book Official Residual Value Guide.
Subaru has an impressive lineup of cars that are well reviewed by Kelley Blue Book. The WRX and the Impreza both won the 2018 Best Resale value award in their separate categories. For the third consecutive year, the WRX landed in the top 10 for Best Resale Value for four years in a row for the best Sporty Compact car category. The Impreza is no slouch either. It has claimed top honors in the Compact Car Category for five years in a row.
Subaru creates a line of vehicles that have great resale values compared to other car manufacturers. Out of all the cars companies, 7th place is held by Subaru for value retention, with its cars retaining more than 65 percent of value after a three-year period and remaining above 50% after the five-year mark.
Two of the best cars in the Subaru lineup, as mentioned previously, are the Impreza and the WRX. The WRX is a great handling affordable all-wheel-drive sports car that is very well equipped and assembled with great precision. It has modern styling and excellent performance characteristics.
The Impreza holds far more value when compared to other brands such as the Toyota Corolla and the Hyundai Elantra. Besides being the best bargain for an all-wheel-drive vehicle available today, the most important feature of the car is the confidence that the owner derives from driving it in all sorts of inclement weather conditions. Whether rain, snow, or mud, a Subaru always gets through!
The Impreza racks up an impressive 57% retention of MSRP value after three years and 43% after 5 years. This gives it the highest value in the category of compact cars available for sale today.
Therefore, if you are now convinced that buying a used Subaru is the route you want to take, you should look at purchasing a certified pre-owned (CPO) vehicle from Lee's Summit Subaru near Kansas City. Subaru factory-trained technicians perform an analysis of every used vehicle and each one must pass a thorough inspection that covers 152 points to ensure that the car is brought back to factory standards to be certified as CPO. Any part that does not pass inspection is replaced or repaired to ensure that the vehicle will be reliable for thousands of miles down the road.
Every CPO Subaru is offered with a minimum guarantee of seven years or 100,000 miles of powertrain coverage, 24/7 roadside assistance, a three-month trial subscription for Sirius/XM satellite radio and one year of the STARLINK Safety Plus Package with Automatic Collision Notification.
If additional coverage is desired, a buyer can choose between two additional options to the standard warranty.
CPO 'Classic' Wrap-Around Plan with Roadside Assistance with coverage up to 7 years or for 100,000 Miles
This plan covers over 1000 parts in all major component areas, including transmission, brakes, drivetrains, engine, electrical, front suspension, steering, cooling and fuel systems, and air conditioning. Also provides for vehicle tow services and vouchers for rental cars during the course of repairs covered under the warranty.
CPO 'Gold Plus' Wrap-Around Plan with Roadside Assistance with coverage up to 7 years or 100,000 Miles
Gold Plus plans include all the features of Classic plan coverage plus coverage for dozens of more parts. It is almost the same as the original 'bumper-to-bumper' coverage of the factory warranty. If you break down on a trip out of town, the plan will even cover lodging and provide you with all sorts of useful travel assistance.
All these plans provide you with the same peace of mind that comes with the purchase of a brand-new vehicle. Knowing the track record of Subaru, you can rest assured that it's likely that you probably won't be using any of these warranty services during the time of your use of the car. So, it's time to hike on down to Lee's Summit Subaru and see what deals are on the parking lot, or simply browse our used Subarus in Kansas City online here.