The newly redesigned Subaru Outback 2018, with its 2.5-liter inline-four rated at 175 horsepower and 174 pounds per foot of torque, is truly in a league of its own. Its sophisticated engineering allows for navigating even the most treacherous off-roading environments.
The flat-4 engine is placed in a new and improved engine compartment that decreases its distance to the ground in order to better the tall-riding vehicle's center of mass as it shuttles power to all four wheels using the CVT system.
What's New for 2018?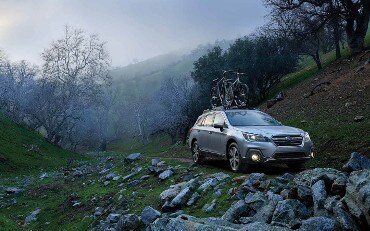 The robust Outback is outfitted for 2018 with a new look for its front bumper, grille, tail, and lighting system. The Limited model has a fresh wheel and braking system that is intended to separate it from the competition.
Its improvements don't stop there.. The electrically assisted power steering has been modified to maximize gas mileage. The suspension system has been refined to offer a smoother ride. The continuously variable automatic transmission (CVT) is now silent in its operation. The exterior engine noise has been made quieter due to re-engineered wheel-well liners in the front and rear. The Subaru Outback has more accessible side-view mirrors, providing the driver with more visibility. The updates to the interior driver's seating area have resulted in an optimized and adjustable steering wheel and center console, providing the driver with the flexibility to match their driving style.
Interior and Tech
The Subaru Outback's standard infotainment screen system has increased in size from 6.2 inches to 6.5 inches. New features include the system providing both Apple CarPlay and Android Auto so that you can navigate with precision and stay connected to friends while in traffic or off-roading. Premium features include a flashy new 8.0-inch touchscreen. Adaptive headlamps - precision-tuned to meet a variety of lighting conditions - are a must-have feature for any driver. The adaptive lighting system adjusts with the steering wheel to provide the driver with an optimal field of view when night driving, especially in forested or unlit areas. For premium trim models, the 8.0-inch touchscreen provides navigation, real-time traffic, XM, HD radio, Bluetooth phone and audio support, and voice commands.
Driving Experience
With the 2018 Subaru Outback, you'll wake up wanting to go on an adventure around Lee's Summit, Kansas City, or wherever else your heart and gas pedal take you. The Subaru Outback will make you feel that there is always adventure waiting for you around the corner. It's a fun and easy car to drive, especially for off-roading and mountainous adventures in snow-covered terrain. The improved torque vectoring all-wheel drive system and a standard off-road driving mode allow the driver to adapt to diverse road conditions ranging from rush hour traffic in the heart of Kansas City to off-roading in the Sierra Nevada mountains.
The Outback's X-mode enables a fine-tuning of the engine, transmission, torque, and braking system for unpredictable road conditions that are flooded or iced over (which would come in handy with the Midwest's fluctuating weather). When accelerating and climbing steep terrain, the CVT system engages lower gear ratios to allow for a friction grip to the wheels. On low-traction icy or hydroplaning surfaces that increase the risk for collision, the traction control feedback system engages faster to prevent loss of grip between the tires and the road surface. When going down steep inclines, the hill descent control feedback system manages braking to reduce lock-up and the cruise control maintains engine and fuel efficiency.
The highly evolved safety features on the 2018 Subaru Outback make it a great option for both driving the family to sporting events around Kansas City and taking them off-roading at Yosemite National Park. Safety is yet another of the Outback's strengths. The Subaru Outback has been recognized and awarded for its superior engineering for safety by the NHTSA and IIHS in 2018. It's received top ratings for crash safety and collision detection and prevention. Additional safety features include the Eyesight driver assist function, which is optional on Premium and Limited models for an additional cost, and standard on Touring trims. Adaptive cruise control combined with pre-collision and lane departure warnings allows you some peace of mind in varying road and traffic conditions.
The evolving technology of automated driving features are slowly being introduced into the 2018 Outback through the lane assist feature, blind-spot monitor, rear cross-traffic alert, and high-beam assist that are all designed to simplify the driving experience without compromising safety.
Test Drive
When test driving the Subaru Outback in Lee's Summit, you'll notice it has a superior and more stable suspension system compared to a midsize SUV or pickup truck. Its suspension system has been engineered to provide the driver and passengers with seamless comfort even as the car navigates over rocky or unpaved roads. Additionally, the increased cargo space is much larger and roomier than competing models in its class. The fuel efficiency on the Outback allows you to save money at the pump so that you can take weekend adventures into the mountains and forget all about your boring desk job.
With 20-25 miles per gallon in the city and 27-32 on the highway, the Subaru Outback is environmentally friendly and reduces emissions compared to comparable models. It's a crossover worthy of accolades due to its amazing and smooth all-wheel drive transmission that provides better acceleration and excellent grip in unstable and slippery road conditions.
The re-engineered CVT improves acceleration, as well as momentum. The car drives more quietly than previous models because of added insulation between the engine and the passenger area. Although the four-cylinder Subaru Outback has less horsepower, it drives incredibly smooth and the handling provides for quick maneuvering around curves and steep slopes. The six-cylinder 3.6R engine option is much faster, quieter, and adds horsepower to the acceleration. However, you will sacrifice a bit of fuel efficiency with the six-cylinder 3.6R, versus the four-cylinder engine.
Warranty
The warranty on the Subaru Outback is superior to the competition because it offers a three-year, 36,000-mile new car warranty. Additionally, it offers a five-year, 60,000-mile powertrain warranty. For its class, Subaru's new car warranty is highly attractive and demonstrates the confidence the engineers have in their product. Subaru models are renowned for their superior engineering, fuel efficiency, and for their reliability in diverse road conditions, and the Outback doesn't disappoint in any of these areas.