Subaru's newest entry into the SUV-three-row-crossover market is the all-new 2019 Ascent.
The Ascent is larger than the Outback and looks more like a traditional SUV. Only slightly reminiscent of the Outback, Subaru has done a wonderful job on the Ascent's design, and its looks and features will likely be well-received by Subaru lovers everywhere.
Take a look at the exterior design – the 2019 Subaru Ascent is a classy vehicle with solid, masculine lines and just the right number of accents. It's available in eight colors, and with no less than 8.7 inches of ground clearance and the ability to tow up to 5,000 pounds. Owning the Subaru Ascent could change your life – it offers a level of flexibility and versatility that you can't get with a smaller SUV or crossover.
Inside the Ascent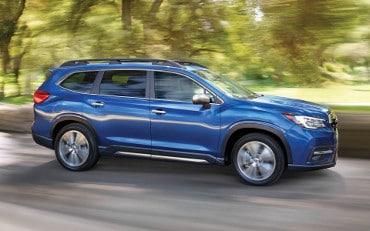 Let's discuss the SUV aspects of Subaru's new baby. Quite a bit larger than the Outback, the Ascent sports three-row seating in all trims and seats seven or eight depending on your seating configuration. Rest assured that every row of seats is extremely comfortable and there's not a hint of being cramped in the third row, unlike some of the Ascent's competition.
Not unlike Subaru's other models, material comforts abound in the 2019 Ascent. With an abundance of small item storage spaces, cell phone pads on passenger doors, and thoughtful containers for passengers regardless of seating position, Subaru has gone all out to make the interior is not only comfortable but also extremely functional.
For those who enjoy the comfort of a second row set of captain's chairs, they're available in trims above the base model.
Although cloth seating is standard, the Premium trim model upgrades to a much nicer cloth covering. As might be expected, all models above the Premium trim are equipped with leather interiors. As for wheels and tires, the base model is equipped with 18-inch treads, with 20-inchers sported on pricier trim levels.
A three-zone climate control is standard, as are - get this - nineteen, count 'em, nineteen cup holders. Fold down the third row of seats and you have over 47 cubic feet for hauling your Saturday splurge at the local Costco. Fold the second row as well and you have over 82 cubic feet of cargo area. This should be enough to save you a trip or two to Home Depot for all but your most ambitious remodeling projects.
A 6.5-inch touchscreen running Subaru's Starlink infotainment system is standard, featuring Apple CarPlay and Android Auto. Many buyers will spend extra and get the eight-inch screen though. With smartphone integration, navigation isn't really needed, but Subaru does provide a very nice Harman Kardon audio upgrade with 14-inch speakers. With eight USB ports sprinkled throughout, charging your phone will be a job that requires little effort to find an appropriate place to plug in.
Safety Features
Safety equipment sees Subaru's EyeSight as standard equipment. The EyeSight system features adaptive cruise control, emergency braking, lane departure warning, and lane-keep assist. There is also a heads-up display providing information on the various safety operations included. Subaru also has a Lead Vehicle Start Alert that sounds a warning chime when the vehicle in front of you has taken off at a red light and you're busy with the kids or chatting with your passengers.
More advanced safety features like blind spot detection with lane change assist and rear cross traffic alert are not available on the base model. Visibility is not a problem with the Ascent; in fact, it's much better than many of its competitors. This may eliminate some of the worries if you don't have blind spot monitoring but with it, it's doubtful you will ever have a close call.
Power
Pushing the Ascent's four-wheel drive chassis is a 2.4-liter turbocharged flat four pumping out 260 horsepower and 277 pounds per foot of torque. The Ascent won't win any drag races, nor is it supposed to, but coupled with the continuous variable transmission you have a nice drivetrain that provides plenty of pickup for passing or merging when needed.
The CVT even simulates gears when under load and provides a Subaru-termed X-Mode that mimics a low range when off-roading. If you don't like the CVT's gearing you can manually shift using the paddle shifters mounted on the steering wheel. With a rated towing capacity of 5,000 pounds (Subaru's highest ever), you can lug your toys around with ease.
Handling
The Ascent handles well, allowing its driver to feel in control and safe. The ride is quiet and smooth, and the four-wheel-drive system gives the Ascent plenty of traction on all road surfaces.
Pricing
Subaru is offering the Ascent in trim levels that should be attractive to most SUV buyers. From the base model starting at just under $33,000 to the fully loaded Touring model at around $45,000, Ascent customers have a lot of flexibility and options to satisfy most every need in their configuration list.
Economy
With an EPA rating of 22 miles to the gallon (or 23 on less trimmed-out editions), the Ascent provides fuel economy near the top of its class. Moreover, with a price range of $33,000 to $45,000, it is unlikely that any SUV buyer will want to overlook what Subaru has brought to this competitive market segment.
Subaru has delivered a very well-rounded vehicle and owes no apologies for its vacancy in this segment for the past few years. They have hit nearly all their targets dead on and with their marketing beginning to convince more and more buyers they both want and need a Subaru, you will likely see many of these at your school pickup zones, cruising down the highway, and heading into the mountains.