Ever since its major overhaul in 2018, the Subaru Forester has been a top pick. One could go further to say that it has always been a top pick over its 20-year tenure – its great ground clearance, standard all-wheel drive, excellent visibility, spacious cabin, useful cargo area, and optional turbo four-cylinder engine jump out at you as awesome reasons to buy a Kansas City Subaru Forester. The fact that it has better off-road chops than all other compact crossovers is just the icing on the cake. Though there is no shortage of vehicles in the compact crossover class, the Subaru Forester stakes a strong claim as the leader of the pack.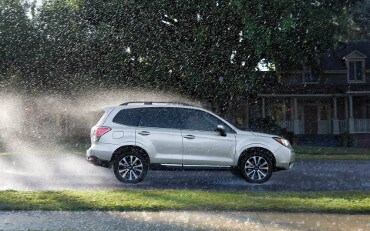 We sell more of the CVT variant of the Subaru Forester (because the CVT is excellent and improves fuel economy), but we should note we can also supply your Kansas City Subaru Forester with a 6-speed manual if you prefer even more control.
The 2018 Subaru Forester is a compact crossover with five seats. It comes in six different trims that are similar to the trims offered across the entire Subaru range and there are optional packages for each if you're looking for something in between two trim levels. You can really make your 2018 Subaru Forester your own.
Your first decision is whether to choose a 2.5i model (with a 2.5-liter engine) or one of the 2.0XT models (which come with a smaller 2.0-liter engine that's actually more powerful thanks to its turbocharger). The choice of engine and transmission will dictate exactly how economical your Forester will be, but you'll be getting between 24 and 28 miles to the gallon.
The XT engine is the choice for you if you plan to go off-roading. With 250 horsepower, it dwarfs most of the pretenders in the compact crossover class and combined with the confident braking and driver-selectable driving modes, we believe it's the best handling option out there today.
If you're on a tighter budget but still want the Subaru Forester magic, take a look at the Forester 2.5i. It is well-equipped with a lot of included features, such as 17-inch wheels, height-adjustable driver's seat, rear-view camera, Bluetooth, smartphone app integration, 6.2-inch touchscreen, cloth upholstery, and four speakers. If you'd prefer alloy wheels to the steel ones supplied, there is an upgrade package for such that also includes a roof rail and automatic up-down front windows.
If you're considering the alloy package, you might want to step up a bit to the Forester 2.5i Premium trim. This includes the alloy package and adds a panoramic sunroof, auto climate control, a larger touchscreen (seven-inch), Starlink Safety Plus for remote services and automatic collision notification, six speakers instead of the four, support for voice commands, a power driver's seat, and seats in the back that recline.
If you choose a manual transmission in your Forester 2.5i Premium you'll get the All-Weather Package thrown in. It's optional on the CVT Premium. This includes all of those heated gadgets that make winter much more bearable – heated seats, heated side mirrors, etc. You can upgrade this again with the Eyesight Safety Package if you get the CVT Premium, a package that includes lane departure warnings, blind spot detection, rear cross-traffic alerts, and automatic emergency braking. Another version has an adjustable-height power liftgate and foglights – get in touch with us here at Lee's Summit Subaru for more information.
New up is a trim new for 2018 – the 2.5i Premium Black Edition! Some customers asked for a trim level that bridged the gap between the mid-range Premium trim and the luxury Limited, and here it is! With 18-inch black-finished wheels, exterior trim in black, a black grill, and black cloth upholstery, you better like black if you choose the Black Edition, but it's a color that very much suits the Forester and makes it a very refined ride.
The Black Edition has everything we've discussed so far, including all of the optional extras. It also adds off-road abilities such as the X-Mode enhanced off-road traction system, adaptive automatic headlights, and hill descent control.
Choose the Limited if you want all of the features but black isn't your thing. You'll also get leather upholstery, a cargo area cover, a power liftgate, and 17-inch wheels as opposed to the Black Edition's 18-inchers.
Still, on the 2.5i engine, you can choose the 2.5i Touring Forester, and it sure is lovely. It kits out the Forester with adaptive LED headlights, 18-inch alloys, side mirrors with turn signals integrated within, keyless ignition and entry, dual-zone climate control, driver seat memory settings, a heated steering wheel, an upgraded sound system, one-touch folding rear seatbacks, and a navigation system. You can opt for Black or Saddle Brown leather.
Arguably the 'best' Forester in 2018 is the Forester 2.0XT Premium if performance is your main metric. This takes all of the equipment from the 2.5i Premium trim but instead includes a powerhouse 2.0-liter turbocharged engine capable of outputting 250 horsepower and giving you 258 pounds per foot of torque. You'll get the CVT included, and there are additional extras not on the 2.5i such as 18-inch alloys, performance brakes, sport-tuned suspension, shift paddles, a leather steering wheel, additional driving modes, and the All-Weather Package as standard. Note, however, that on the 2.0XT Premium there's no room to include the EyeSight package.
Summary
The roomy cabin and the significant upgrades in styling introduced last year may be the first things that attract you to the 2018 Forester, but once you test drive a Kansas City Subaru Forester you'll begin to appreciate it much more. The quiet ride is impressive, and you should take care to see how much cargo room and passenger space there really is in the Forester. After you've driven it for a while you'll also appreciate the excellent fuel economy and practicality, which altogether make the Subaru Forester one of the most versatile and sought-after vehicles on Kansas City, Lee's Summit, and Independence roads today. Get in touch today for a test drive.