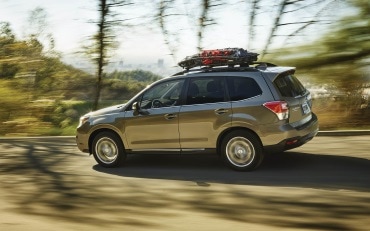 The 2018 Subaru Forester available at a Kansas City Subaru dealership near you is a top compact SUV pick thanks to its spacious interior and great fuel economy. The all-wheel drive SUV packs power, especially when you upgrade to the turbocharged engine. And, thanks to high ground clearance, off-road adventures are sure to exceed all your expectations. The Forester is truly in a class of its own.
The 2017 Forester model received many upgraded features like added safety features, enhanced cabin comfort, and a trendier style. So, the 2018 edition remained fairly untouched, although a 2.5i Black Edition was added to the trim levels. The 2.5i features black cloth upholstery with a black out wheel, body trim, and grille finish. The 2017 model received blind-spot monitoring, enhanced noise cabin control, and reverse auto braking.
The Forester was first introduced more than 20 years ago. Since this time, the Forester hasn't changed in its overall high quality. Standard all-wheel drive, added ground clearance, noise-free cabins, great visibility, roomy cargo area, off-road capabilities, and CVT are only some of the Forester features that impress. Depending on the trim level selected, the Forester offers 24 - 28 mpg fuel economy. Among the competition, the Forester ranks top-of-the line.
Forester Trim Levels
The five-seater Forester is available in different trim levels to accommodate the needs of all drivers. In fact, a total of six trim levels are available, including the 2.5i, the 2.5i Premium, the 2.5i Limited, the 2.5i Touring, the 2.0XT Premium, and the 2.0XR Touring. Each of the 2.5i Forester models includes a 2.5-liter engine, and the 2.0 models have a 2.0 turbocharged engine. All-wheel drive is standard on all trim levels.
The 2.5i has a 2.5-liter engine packing 270 HP with 174 lb-ft of torque. Choose a six-speed manual or CVT motor. This trim level includes cloth upholstery, a 60/40 folding rear seat, Bluetooth and audio streaming capabilities, 17-inch wheels, rear camera, 6.2-inch touchscreen display with Starlink technology, and a four-speaker sound system. Alloy wheel packages are optional.
The Alloy Wheel package is standard on the 2.5i Premium edition, which also includes a power driver seat, reclining rear seats, a 7-inch touchscreen display, panoramic sunroof, Starlink Safety Plus, a six-speaker sound system featuring satellite radio, and more. There's an All-Weather package that includes heated side mirrors and front seats that are offered standard on Premium trim levels with a manual transmission. The All-Weather package adds adaptive cruise control, lane departure warning, blind-spot monitoring, and more. There's also an optional version that includes a power liftgate and fog lights.
The 2.5i Premium Black Edition combined the Premium and Limited trims and adds 18-inch black chrome finish wheels, black grille and exterior trim, and cloth upholstery in black. There's also CVT and an All-Weather package included standard. You also get X-Mode enhanced off-road traction, automatic adaptive headlights, high-beam control, and fog lights.
The 2.5i Limited trim adds to the Black trim with leather upholstery, a power liftgate, an updated driver information display, and a cargo cover area. There's also rear cross-traffic alert and blind-spot monitoring, as well as 17-inch wheels.
The Limited trim optionally offers a technology package that bundles navigation and an eight-speaker Harman Kardon sound system. Harmon is known for their amazing sound systems. EyeSight is also included with the upgrade. This includes LED headlights and reverse automatic braking.
The 2.5i Touring is the top of the line model and with it you get a ton of great features, starting with 18-inch alloy wheels, and continuing into adaptive LED headlights, keyless ignition, keyless entry, dual-zone automatic climate control, driver-seat memory settings, an upgraded sound system, one-touch folding rear seats, dual-zone climate control, and a heated steering wheel. Optional black or saddle brown leather upholstery is available.
Choose the 2.0XT Premium edition and get the features of the 2.5i Premium with an updated turbocharged 2.0L 4-cylinder engine, 18-inch alloy wheels, sport tuned suspension, the All-Weather package, and a leather-wrapped steering wheel. The 2.0XT Touring features the same upgrades as the Premium and includes a power liftgate.
Optional auto-dimming mirrors are available for all Forester models.
Performance
The Forester includes a 170 HP 2.5-liter engine in most trims, but the 2.0XT has a 2.0-liter turbo 250 HP motor. The lower end models include a 6-speed manual gearbox or your choice of 6-speed or 8-speed automatic transmission. There are also shift paddles and an 8.7-inch ground clearance on all models. Subaru also offers X-Mode on the Forester that evenly distributes power at lower speeds. Whether you are in town, on the freeway, or back-roading it up, the Forester always delivers the power and performance that you need.
Safety
Safety is never a worry when driving the Forester. The Subaru brand is well-known for its ingenious safety inside all its vehicles. The Forester is no exception to the rule. In fact, it's been rated a Top Safety Pick by the IIHS. It's also earned a five-star rating from the NHTSA. When you drive the Forester, you can do so with complete confidence that you are protected every inch of the way.
A rearview camera is standard on all Forester models. The Limited and Touring trims also feature blind-spot monitoring and rear-cross traffic alerts. The Premium models with EyeSight system also include these features. Subaru is a car manufacturer that is intent on keeping drivers safe and the impressive safety features prove that statement.
Interior and Utility
The 2018 Forester is the Subaru Kansas City deserves; it is pleasant to drive, offers plenty of room, and a dashboard that doesn't make you feel enclosed thanks to its spacing from the driver seat. There's a squared-off shape to the interior, adding precious cargo space where it is needed the most, and with 34.4 cubic-feet of cargo space behind the wheel, transporting goods is never an issue. Fold the seat down to expand the room to over 74 cubic foot of space. The Forester ensures that you can safely travel in comfort and style, no matter where life takes you.