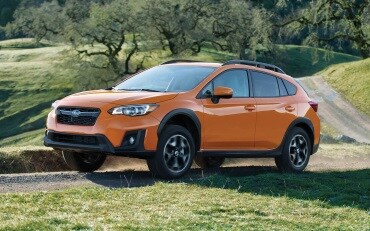 Whether you're a city slicker or prefer spending time driving the off-road beaten paths, the 2018 Subaru Crosstrek is a fun ride that gives you the opportunity to enjoy both adventures. The new and improved Crosstrek uses the Subaru Global Platform, which delivers enhanced comfort, safety, and performance to drivers.
There's plenty of room inside the Crosstrek, ensuring you and all your passengers arrive at your destination comfortably. The 'Dynamic x Solid' design language gives the Crosstrek a vibrant style and there are modern features such as the inclusion of Android Auto support.
There are several trim levels offered, each with Active Torque Vectoring as standard. Before this model year, this feature was available on the WRX and WRX STI models. With ATV, the vehicle always stays on the right path thanks to lower understeer.
Trim levels for the Crosstrek include the Base, Premium, and the Limited models.
The Subaru Look You Love
A tough, rugged style is a feature that any driver can appreciate and the Crosstrek certainly delivers beyond your expectations. The sculpted Crosstrek body has Hawkeye headlights, a hexagonal grille, and flowing lines and wheel arches. Roof rails and lower rocker panels enhance the dynamic style.
With a 105-inch wheelbase, there's a 1.2-inch increase in size from last year's model. The Crosstrek itself is 0.6-inches longer and 0.9-inches wider than the prior model. The added room may not sound like much, but it provides a spacious, comfortable interior you'll enjoy. The vehicle offers 60/40 split folding seats and a wide rear gate that makes it easy to get cargo in and out. The vehicle has 17-inch alloy wheels, has great cargo room, and offers awesome visibility for drivers.
Interior Upgrades
Rear-seat passengers are especially benefitting from the updates offered in the 2018 Subaru Crosstrek in Kansas City. There's an entire inch of legroom added to the vehicle. There's also added shoulder room thanks to the longer size of the vehicle. Front-seat riders and drivers can enjoy some of the most comfortable seats Subaru has ever put inside one of their vehicles, and the fact that they include warmers is pretty awesome.
When you drive the Crosstrek, you'll enjoy a smooth ride on any terrain. It is almost like you're not even inside a vehicle at all, since there isn't any noise, either. The vehicle is capable of handling your off-road adventures with ease and party back into town with style and grace. With a virtually noise-free interior, softer springs, and 8.7 inches of ground clearance, you're always ready to go!
The SUV for Today's World
Subaru outdid itself with the 2018 Crosstrek redesign. The SUV features amenities that only some of the next-generation models will include. The SUV is equipped with EyeSight Driver Assist Technology to keep you safe and the car uses symmetrical AWD power. The framework was redesigned for this model year, offering more stability and comfort to owners. The ride is sublimely smooth and quiet.
All trim levels are equipped with a Continuously Variable Transmission that includes an X-Mode semi-manual control system. This allows you to gain better wheel control when on steep inclines or wet terrain. Many of the so-called off-road vehicles out there do not have this feature and it can be difficult sometimes when you take your ride to certain areas. That isn't a worry here because the Crosstrek is ready to go no matter where you plan to take it. This SUV is one of the best performing models of all time from Subaru.
Efficient Performance Exceeds Expectations
Under the hood, the Crosstrek has a 2L 4-cylinder direct fuel injection motor producing 152 HP. The prior model pulled only 146 HP. Both the Base and Premium models have a 6-speed transmission with optional Lineartronic CVT. The Limited trim features the CVT with a 7-speed manual mode as standard.
The CVT is included on most of Crosstrek models that will be sold. The excellent CVT improves the fuel efficiency of the vehicle, bringing the car to a 27 mpg city mileage and a 33 mpg highway mileage, with a 29 mpg combined fuel efficiency level.
You're Safe in a Subaru
Subaru isn't shy about how they keeping their car owners safe and their vehicles feature many enhancements you aren't likely to get with other car manufacturers. It seems the brand is always making strides that other companies do not and all drivers can appreciate that fact about the manufacturer. The Crosstrek is safer than most of the other SUVs on the road today.
The Crosstrek has earned the IIHS Top Safety Pick award for six years in a row! The features the Crosstrek includes that have helped it earn this high honor include illuminating steering responsive headlights, curtain airbags, a driver's knee airbag, reverse auto braking, a tire pressure monitoring system, and a rear vision camera.
2018 Subaru Crosstrek Trim Levels
The Crosstrek comes standard with cloth upholstery interior, a 60-40 split folding rear seat, 17-inch alloy wheels, Bluetooth connectivity, a 6.5-inch infotainment touchscreen and a 3.5-inch multifunctional display. These features are only the beginning of the many that come standard on the vehicle. - just another way that Subaru shows they care about the people they serve.
The 2.0i base model has a price tag of around $22,710 with CVT added for an additional $1,000. Choose the Premium trim for a cost of around $23,510 and enjoy sound insulated front windows, heated front seats, and more. The Limited has leather upholstery, a premium audio sound system, and 18-inch wheels among other features. The Limited has a price tag of around $27,210, which is still very modest for a brand new SUV of this grandeur.
The Crosstrek proves that you can get a great SUV without spending a small fortune in the process. If you are in the market for a new SUV that never lets you down, it is time to look at the new and improved Crosstrek and learn firsthand how it can greatly improve your life. This is one vehicle you will love to own.