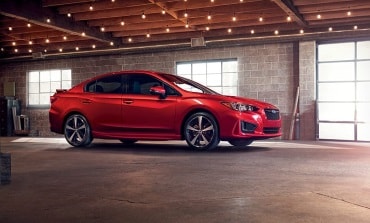 Subaru's latest compact sedan/hatchback has arrived. Prepare yourself for a fun, agile ride that only the 2017 Subaru Impreza can provide. This revision of previous Imprezas has a stylish exterior that complements its sleek interior. It not only offers standard all-wheel drive and the Impreza's trademark hexagonal grille, the 2017 Subaru Impreza available at our Kansas City Subaru dealership also comes with additional standard and optional features that include the carmaker's active safety system.
With the latest Impreza from Subaru, Kansas City driving has never been more fun and rewarding.
Design and Performance
Unless you whip out a tape measure or do a side-by-side comparison you would be hard pressed to spot the fact that the 2017 Impreza has had a 1.5" increase in both width and length, or that it is 0.5" closer to the ground than previous incarnations. The carmaker claims that those barely noticeable changes are what give the sedan a more sculptural design.
While some may not notice the changes right away, drivers and passengers alike will find it near impossible to be oblivious to the quieter ride provided by this year's redesign. Another noticeable change is how slightly oversized both front and rear light units appear. Both drivers and passengers will be riding in luxury with improved soft-touch materials and matte silver trimmed gauge cluster, touchscreen display, and console. Situated at the base of the windshield above the center stack are beveled edges and a hooded secondary display.
With the addition of direct injection, the amount of horsepower the 2017 Impreza offers has increased from 148 to 152. It is offered with a 6-speed manual on low-end and Sport models, or with a continuously variable transmission (CVT) that feature improved EPA fuel economy ratings. And the manual mode found in high-end models allows drivers to paddle shift through seven fixed ratios.
The 2017 Subaru Impreza handles much better on the road than ever thanks to tweaks in its suspension. A lower center of gravity has cut the chances of body roll by an impressive 50%. Active torque vectoring continually adjusting the torque distributed to each of the 18" alloy wheels fitted on the Impreza Sport model helps with maximizing grip when driving conditions become challenging. The torque vectoring also comes in handy while rounding corners, with a steering that feels notably crisper and tighter.
Safety
An eye-catching exterior and stylish interior mean very little if the vehicle fails to protect its precious cargo. Thankfully, Subaru didn't cut corners in the safety department. The Impreza series of cars has a good track record as far as safety is concerned. Subaru continues that trend with this year's addition to the Impreza family.
According to the carmaker, the body shell of the new 2017 Impreza has a crash absorption rate that is 40% better than last year's model. Additional safety features new to the active safety functions of the Impreza are its automatic reverse braking, rear-view camera with the inclusion of steering lines that display where the car will travel, a high-beam assist function that turns the high beams on or off automatically, and shifting headlights that illuminate corners when the wheels turn.
The EyeSight system (an optional component) makes a return and includes adaptive cruise control, lane-departure warning and lane-keeping assistance, plus automatic pre-collision braking. The EyeSight system is popular amongst drivers and for good reason.
Features
Standard with every Kansas City Subaru Impreza are remote keyless entry, seven airbags, a rearview camera, audio controls via the steering wheel, automatic hill-holder for safe incline stops, a 60/40 rear seatback, and Apple CarPlay and Android Auto support. Cargo tie-down hooks, a rear-window washer-wiper, and cargo rails in the roof (available for both models) are also new this year.
16" steel wheels with matching silver covers, an audio system with four speakers, a 6.5-inch dash-mounted touchscreen display, a multi-information display, and, of course, cruise control as standard are some of the main selling points for the base 2.0i models.
But Subaru expects buyers to go giddy over the Impreza Premium. This model is packed with a slew of goodies that include 16-inch alloys, a CVT with 7-speed manual shifting, a cold-weather package with heated front seats/door mirrors, standard roof rails (hatchback), an audio system with six speakers, and one year's Subaru Starlink connected services to top it all off. As far as options are concerned, those include a power moonroof and Subaru EyeSight.
Newly added to the EyeSight package is the inclusion of blind-spot monitors, rear cross-traffic alerts, auto reverse braking for those objects that go unnoticed by the driver, adaptive cruise control, auto crash braking, plus active lane control for the lane-departure warning system. Also included with EyeSight are automatically rotating fog lights, a tire-pressure display and a color display between the gauges.
The alloy wheels that come with this year's Impreza Sport model are 18" with low-profile performance tires, a retuned sports suspension, and active torque vectoring. To ensure the best amount of traction while navigating corners, torque varies to each wheel. Red-stitched leather upholstery graces the interior trim of all Sport models. Trim embellishments include both aluminum trim and carbon fiber. Centered in the dashboard is an 8" touchscreen, and a rear spoiler is mounted either on the roof (hatchback) or the trunk lid (sedan). A moonroof, EyeSight, and a navigation system are all you can expect from the options selection.
Future Impreza Limited owners can look forward to 17" alloy wheels, keyless ignition, leather-trimmed upholstery, automatic climate control, a six-way power adjustable driver's seat, and the 8" touchscreen display. Matte silver, chrome, and carbon-fiber and make up the interior and exterior embellishments. As far as safety is concerned, drivers can rest easy knowing that the Impreza Limited features LED headlights with both low- and high-beams that turn with the steering wheel, auto high beams, plus door mirrors with their own turn signals. And finally, options are limited to the moonroof, EyeSight, and navigation.