We recently announced we'd be donating no less than $250 to Hillcrest Transitional Housing for every new Subaru we sell at Lee's Summit Subaru during November and December. We believe that community action is important for a company like ours and we're dedicated to helping our community as best as we can through such partnerships with local charities and non-profit organization.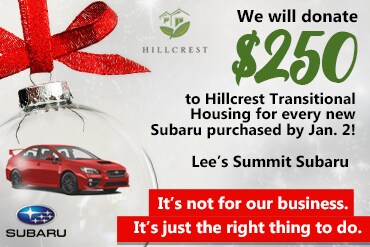 So what does Hillcrest Transitional Housing do? Hillcrest Transitional Housing offers people who currently don't have any supportive system helping them. It's a lifeline for people who are homeless, single or alone. It gives youths a chance a supportive environment that helps them become better people with this organization's help along the way through a disciplined educational program.
Hillcrest focuses on self-sufficiency in this program to help people to self-sufficiency within 90 days. This is done by addressing all of the life issues that the homeless families they are serving are up against. Hillcrest does offer longer terms of housing for those with excessively difficult barriers to housing.
Hillcrest Transitional Housing also provides a housing program for teens who are homeless and young adults between 16-20 years of age who have the goal to gain an education.
For rent and utility free housing, the adults are required by a written agreement to go out and find themselves a full time job and obey all of the program's regulations and guidelines. Attending the volunteer-taught classes held weekly on skills in life, employment, community living and budgeting money is mandatory.
With its network of supporters and funders, Hillcrest can provide transitional clients with car repairs, donations, food assistance, medical care including dental work, GED classes, haircuts, school clothes and clothes for work.
A History of Helping
Hillcrest is a faith-based local nonprofit organization that helps homeless families and individuals into long-term housing through transitional housing and a rigorous educational program.
The goal is to help people transition out of poverty and become self-sufficient in 90 days.
Ben and Patsy Beltzer of Liberty founded Hillcrest Ministries in 1976. They founded Hillcrest because they themselves had survived financial devastation solely thanks to the aid of church friends.
In 1978, Hillcrest was incorporated and grew over the years to house the homeless of Clay County and many other locations. Hillcrest Transitional Housing of MidAmerica managed all the other locations, which were made into affiliates.
In January 2014, Hillcrest Hope Transitional Housing and Support was created with apartments in Liberty and Avondale when the Clay County affiliate separated from MidAmerica.
Scott Cooper, 43, has been a part of Hillcrest for 20 years. He has worked with and seen 1,950 families go through the program. The Hillcrest program is funded through donations from government grants, businesses, individuals, private foundations, and donations from churches. All additional revenue comes from sales from Hillcrest thrift stores and fund-raising events.
We're proud to be working with Hillcrest Transitional Housing by donating $250 for every new Subaru purchased at Lee's Summit Subaru in November and December.