There are a few decisions you make in life that you will never regret. We believe that one of these key decisions is choosing to buy a Subaru car from a trusted and authorized dealer. Such dealers guarantee you a continued high quality service through a contract, allowing you to sit back and enjoy owning the car. With this in mind, it would make perfect sense for you to choose from the wide range of Subarus, be it new or used, from Lee's Summit Subaru dealership.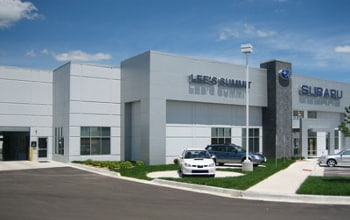 Are you from Missouri, Independence, Kansas City or Blue Springs and are wondering "which is the Subaru dealership near me"? Look no further. Lee's Summit Subaru Kansas City is the ultimate solution for all of your automotive needs. What's more is we have been offering service to the people of this community for almost fifty years.
Subaru Dealership near me in Lee's Summit
You might wonder, 'what if my financial situation does not meet the monetary requirement for a new Subaru?' We thought of that too, and for that, we offer you pre-owned and used Subarus and other makes from our wide range available at the Summit.
Common options are the used Subaru Forester and the pre-owned Subaru Outback. These Subaru Certified pre-owned vehicles still have decades of dependable miles available, as they've been checked from top to bottom.
The benefits of a certified Subaru over a non-certified Subaru model include a roadside assistance program, a 152-point inspection from our factory-trained engineers and a factory warranty.
To add to this we provide trade-ins for your current automobile. We also offer you our CarFinder service where we will find the perfect vehicle for you at an affordable price.
Commercial Subaru Dealership Services near Me
You might be thinking, 'what about someone like me who has an organization in the Kansas or Missouri area, is there a Subaru dealership near me that suits my needs?
Worry not, because we have dedicated fleet service department especially just for people like you. Whether you are in search of special pricing, priority servicing and repair, Subaru vehicle leases, or even fleet car financing in Missouri, rest assured that the Lee's Summit fleet department has been established to provide you with stellar service. Get in touch today.
Only the Best Parts for Your Kansas City Subaru
What makes our Lee's Summit accessories center one of the best is the fact that we carry most if not all of the accessories and Subaru spare parts on site. This means that you are most likely not going to have to wait for a Subaru spare part when you visit our part and accessories center.
Where's a Subaru Service Centre near Me?
We are not just a Subaru dealership. We offer all services related to automobiles, all within the same building. The Lee's Summit Subaru Kansas City Service Department is among the best service providers within the state. The service center has certified, able and well-trained technicians with high-tech tools always ready and at your service to help you maintain your Subaru. The large number of people streaming into our service center from the entire Kansas City and Missouri areas is a clear proof of the fact that we offer impeccable service.
Subarus are durable automobiles, but they still require maintenance and repair from time to time. Deciding to choose Lee's Summit Subaru for your automobile repair is choosing to keep your Subaru on the road for the longest possible time as we use genuine OEM Subaru parts. Choose Lee's Summit Subaru - choose a longer lifespan for your Subaru.
We provide a quick and efficient service complemented by a multi-point inspection. Better still, you don't need to make prior arrangements for you to be served at the Lee's Summit Service center. However, in case you do choose to make a prior appointment, you can easily make it through our online service scheduling.
Within the Lee's Summit Subaru service center we provide a variety of Subaru accessories which include Subaru tires and other parts. To get any of these spare parts, contact the Lee's Summit parts center for us to procure, source and supply whatever you would like for your Subaru. Other services we offer at the service center include oil changing, brake checks and replacements, and wheel balancing.
Financing a Subaru in Missouri
All your Subaru needs are catered for under one roof when you are dealing with Lee's Summit Subaru Dealership. We promise to provide the best possible financing for your Subaru whether you are purchasing a used or new Subaru. While there is a variety of financial incentives and leasing options from Subaru, we offer to find the best deal for you and to set out the terms of the financing contract you choose to enter in the simplest way possible. As an official partner of Subaru we can source special deals directly from the manufacturer that can have you in the car of your dreams at a price much lower than you might expect.
The Lee's Summit Subaru Dealership You Can Trust
Lee's Summit is considered to be one of the earliest Kansas City dealerships, having rendered its services to the communities of Kansas, Independence, and Blue Springs for almost half a century now. We are known for our wide range of Subaru models from which our customers can select. Most of our Subaru automobiles are of the latest generation, acclaimed as the best in performance, utility, and economy. These models include and are not limited to: the Outback, the CrossTrek, the Impreza, the Legacy, the WRX and the BRZ.
The Best Subaru Dealership near Me? Lee's Summit Subaru!
Lee's Summit Subaru is the dealership to trust. Contact us today to enjoy our quality services. Check out the hundreds of testimonials and reviews from our customers to see how and why they keep coming back to our Kansas City Subaru dealership, and we hope to see you joining our Subaru family soon.