Lee's Summit Subaru is the new and used car dealership near me that offers one of the widest ranges of Kansas City Subarus to buy near Independence, Blue Springs, and Overland Park. Whether you're planning to buy a used car in Lee's Summit or want to buy the best new Subaru Kansas City has to offer, there can be few better choices that Lee's Summit Subaru.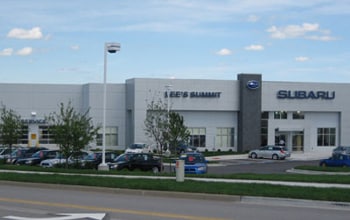 Subaru of America is on a roll this year with several new model year vehicles already launched. Be it the 2017 BRZ or the 2018 Impreza, the 2018 WRX or the handy 2018 Forester SUV or 2018 Outback, the Japanese carmaker is having one of its best years. This can be further attributed to the fact that Subaru has already sold 360,513 vehicles in 2017, 8.7 percent more than the sales in the same period last year.
The carmaker has the 2018 Impreza, Legacy and WRX sedans in its stable. While the Impreza is also available as a 5-door estate, the 2018 BRZ is the only coupe produced by the company. Termed by some as a crossover, the Outback is an estate car in its truest sense which is now known for its no-frills design and focus on substance over style. Meanwhile, the Forester and the new XV Crosstrek are the two SUVs to be rolled out by the company.
2018 Subaru Impreza
The Impreza was the company's first models to be built on a global platform. The new model year Impreza comes with a 2.0-liter engine (152 hp) and is available in three packages – Touring, Sport and Sport Tech. Available as a 5-door and as a sedan, the Impreza has a standard all-wheel drive and a fuel efficiency of 32 mpg. With several high tech safety features and reliable engineering, the Impreza sedan can take on the likes of the Honda Civic, Chevrolet Cruze, and VW Jetta while the 5-door is at par with the VW Golf S or Ford Focus SE Hatch.
2018 Subaru Legacy
The Legacy sedan comes with the most options to suit a driver's needs. Available in two engine options – 2.5-litre 4-cyl (175 hp, 174 lb.-ft.); 3.6-litre 6-cyl (256 hp, 247 lb.-ft.); it also offers manual and CVT transmissions. The current model year variant is equipped with several high tech safety features like lane-keep assist and infotainment tech like 12 Harman Kardon speakers. The Legacy is an outright luxury car starting at close to $23,000.
2017 Subaru BRZ
Subaru's sports coupe, the BRZ, is recognized for its precision steering and lightweight engineering. With a six-speed manual or automatic gearbox, it rides on a 2.0-liter 4-cyl boxer engine that produces 200 hp of power and drives on the rear set of wheels. With the recent introduction of the yellow BRZ series, Subaru has grabbed plenty of urban youth eyeballs with this coupe.
2018 Subaru WRX
The WRX is another sedan from Subaru which can take on the likes of Honda Civic, BMW 2 series, and Audi S3. Until 2015, the WRX was also available as a 5-door but current generation WRX and WRX STI are only available as four-door sedans. With an all-wheel drive powertrain running on manual and optional CVT transmissions mated to the car's turbocharged 2.0-liter 4-cyl (268 hp, 258 lb. ft.) and 2.5-liter 4-cyl (305 hp, 290 lb. ft.) engines, the WRX has curb appeal!
2018 Subaru Forester
The Forester is a compact SUV that has received several updates in its current iteration, including a refreshed grille and front bumper cover. Powered by 2.5-litre H4 (170 hp, 174 lb-ft) or turbo 2.0-litre H4 (250 hp, 258 lb-ft) engines, the SUV runs on an AWD powertrain and is also loaded with several safety features. The new model year variant has an upgraded camera, improved pre-collision braking and lane keep assist, steering-responsive lights, rear-side vehicle detection, reverse automatic braking and large object detection in reverse gear. Ideal for families and SUV lovers!
2018 Subaru Outback
The Subaru Outback, named after the remote and arid region of Australia, is a crossover designed specifically for the American market. The company has smartly refrained from changing too much in the winning formula and the Outback continues to be one of the popular wagons in the country. The current generation Outback is available in six separate trims: 2.5i, 2.5i Premium, 2.5i Limited, 2.5i Touring, 3.6R Limited, and 3.6R Touring. While the 2.5i trims are powered by a 175 hp 2.5L horizontally opposed 4-cylinder engine, the 3.6R models use a 6-cylinder engine with 256 hp. Both engine types run on a CVT transmission.
All in all, the Subaru Outback is an ideal choice for families looking for a utility vehicle. It also gives that all-wheel drive advantage and stands apart from the crowd of SUVs and crossovers.
Used Subaru Kansas City Dealership
Of course, one also has the choice of purchasing a used car. Lee's Summit Subaru is a used car dealership near me that sells pre-owned Subarus and other makes. You can check through our inventory on this site to get an idea of the vehicles on offer at our Kansas City Subaru dealership. You can setup price alerts, save the cars you are interested in, compare them, and filter your search based on mileage, price, color, condition, year and make.
We offer financing and you get pre-approved in seconds. This doesn't affect your credit score, so feel free to see the type of car you'll be able to purchase, whether new or used. In fact, we offer a free credit repair and protection membership service in partnership with Credit Protection USA. This can remove negative details on your credit report such as bankruptcies and civil judgments.
If you already own a car and you're looking to trade up, we offer excellent trade-in prices that are competitive to what you would receive on the private market – without the hassle.
Come down to Kansas City Subaru dealership today to take a look at all of the new and used cars on offer.