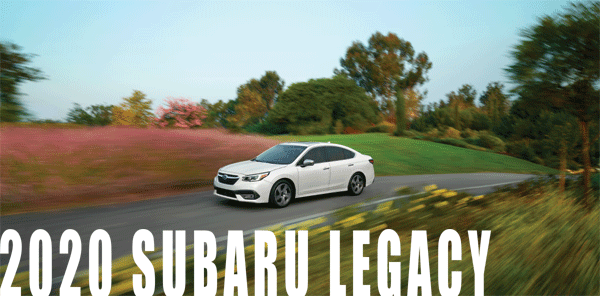 The Subaru Legacy Legacy
A New Subaru Review, by McCall Witt.
The Subaru Legacy has been a very important part of the Subaru portfolio for years in fact the brand themselves will tell you that this was the first vehicle that they ever built here in America at their Indiana factory about 30 years ago. This is the all new seven generation 2020 legacy it shares the same platform that underpins the rest of the Subaru cars. So it's got these Subaru global product architecture it supports an all new interior with an eleven point six inch tablet and Subaru is bringing back a turbo charged engine underneath the hood of this new sedan.
So the big question I want answered with the return of the Turbo and about 260 horsepower, has Subaru built a budget all wheel drive sports sedan for the masses. I am here to tell you yes they have!  So we'll get to the styling of the new legacy in just a moment because this car marks the return of a turbo charged engine to the legacy's lineup which we haven't seen for the greater part of a decade.
The New 2020 Subaru Legacy Engine
Now if you guys are familiar with the new Subaru Ascent, these powertrains will look pretty familiar. It's going to start out at a 2.5 liter Boxer flat four cylinder engine part of their FRB 25 engine family. It's an updated engine versus the motor that we saw in the previous generation model. Now it has direct injection it's still a box or flat for it makes one hundred eighty two horsepower and a hundred and seventy six pound of torque, that's a seven horsepower increase and two more pounds for you. I'll be driving that engine first but this is the motor that I'm most intrigued about because this is the same engine that's in the Subaru ascent. It's their new FAA 24 Boxer four cylinder so it's a two point four litre flat for Sounder engine that's turbo charge. The inter coolers mounted right at the top and even though there is no hood scoop this car does have a top mounted enter cooler so it does suck in air through the grill to help feed the inner cooler and this power are in this car makes two hundred and sixty horsepower and two hundred and seventy seven pound feet of talk.
This is replacing the old three point six litre horizontal flat six so sorry the death of six cylinders under the hood of the legacy but this has four more horsepower and about 31 more pounds of torque versus the six cylinder engine. This is this is replacing now fuel economy is also improved with the base 2.5 you're gonna get her up to 27 in the city and 35 on the highway that's running on regular gas of course Subaru says with an 18 gallon gas tank you're going to go about six hundred and eighty miles on a full tank.  The turbo is rated at a still impressive 24 in the city and 32 on the highway that's practically matching the fuel economy as something like the Honda Accord two liter turbo and a Camry. Keep in mind all 2020 Subaru Legacies are standard with the company's symmetrical all wheel drive which has been retooled this year to add more torque vectoring especially at the rear axles and all goes out through a continuously variable transmission. The Turbo model has a unique high torque CVT which has been designed to cope with the extra hundred pound feet of torque.  It weighs about 150 pounds less.
2020 Subaru Legacy Styling
They never used to operate touring on the legacy. I'll also be driving a sport model, and later that has some black accents really the biggest change you're gonna notice are the or is the grill and the slightly tweaked headlights is the Subaru hexagonal grill. It's got a slightly new look to it with the chrome slot at the upper portion of the border is kind of gone from the Grizzlies Hawkeye headlights which by the way these full ATV headlights are going to be standard you'll have an elegy loan Heidi the signature C shape already running late.  This is an incandescent turn signal and then if you guys go for the sport trims it up you'll have LCD fog lights here at the lower fascia this touring model has a little bit more chrome around the fog like vessels around the grill. 
Things don't really get much more stylish when you look at the side profile of the new legacy it has a very traditional sedan shape to it. And this is where obviously you got to notice the big differences from this and the outback which is its station wagon crossover cousin Subaru says it because it's moved to the new global product architecture. They did increase the overall length by about an inch and a half but at one hundred and ninety point six inches long this is still a couple inches shorter than something like the new Honda Accord or a Toyota Camry the wheelbase actually stays the same at one hundred eight point three inches long. So it's a little bit shorter than most of the competition. Now Subaru offers a choice between a 17 inch steel wheel that you got on the base model it's a hubcap or you can go up to got to an 18 inch wheel. This X teetering come standard with these 18 inch machine finished wheels would like the black. Painted pockets. They're wrapped in 225 with tire. So these wheels and tires are very conservative even the new sport trim still only has an 18 inch. Well when I asked Subaru why don't they do a 19 inch wheel. They basically said it was up to the design team in Japan. Subaru is very conservative with changing the wheels making them larger because this is supposed to be a more practical car it shouldn't also ride terribly which is what their answer was.
Now you can distinguish this as the Touring model because it has chrome finish on the mirrors. They also have turn signals these mirrors are also power folding which is nice the sunroof is also included if you guys go for the sport trims and up there's no no roof. Unfortunately Subaru doesn't offer a painter roof and with this new generation they have upgraded the suspension it's still double wishbone on the front struts in the back. They've been re-tuned for a better ride quality Super says this is the stiffest and sporty ascribing legacy that they've ever offered Outback. You will see the most styling changes for this generation versus the. Previous generation the talents had been reworked although their basic shape hasn't really changed.
As you can see they're kind of an incandescent LCD combination. Here the turn signal here is an LCD. The brake light Axon here is also just incandescent. You'll know that this is the X teach him because it says Turing XY on the back. There's also a limited XY which will say limited x. But in case you guys missed the badge if you look underneath here the X T turbo models are the only ones to get a dual outlet exhaustive. These are actually real exhaust tips to you guys go for the base 2.5 you'll just have a hidden exhaust which is underneath the rear bumper. You also will find a nicely integrated rear parking sensors on this talking trim and you also have a backup camera which will obviously be supplemented by the front camera that you get on this particular touring on the trunk.