Introducing the Quieter and Roomier 2018 Subaru Crosstrek
The Subaru Crosstrek continues to dominate the market and receive excellent reviews. The Crosstrek in 2018 is now bigger and quieter, making it an even better buy.
Passenger volume in the 2018 Subaru Crosstrek jumps from the 98 cubic feet found in the outgoing model to 101 cubic feet. This is due to a 1.1" increase in width in the front and a 1.3" increase in the rear. This allows the front seats to be placed farther apart which increases hip room. Rear seat legroom has also been increased by an additional 1.1".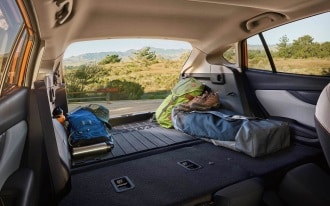 The width of the SUV's hatch opening has increased by 4" in order to improve loading cargo. The distance between the wheelhouses is larger, as well, making the 2018 Subaru Crosstrek for sale in Lee's Summit better for bulkier cargo.
The 2018 Crosstrek hits the ground running with three available trims: the 2.0i, the 2.0i Premium, and the 2.0i Limited. A four-cylinder engine and all-wheel drive can be chosen on any of the three trims. The 2.0i and 2.0i Premium come standard with a manual transmission. Upgrading to a continuously variable transmission or CVT is also available for the first two.
The starting prices stand as $21,795 for the 2.0i trim, $22,595 for the 2.0i, and $26,295 for the 2.0i Limited.
A rearview camera is available for all Crosstreks. Additional safety features including blind spot monitoring, rear cross traffic alert, adaptive cruise control, pre-collision braking, lane departure/sway warning, lane keep assist, automatic high beams, and reverse automatic braking.
To get up close and personal with the 2018 Subaru Crosstrek, test drive the new Subaru at Lee's Summit Subaru. We have the entire range of 2018 model-year Subarus on display, and our knowledgeable staff is always on hand to answer and queries. Let's take a look at some of the reasons that the 2018 Subaru Crosstrek is beating out the rivals this year.
2018 Subaru Crosstrek vs. 2018 Jeep Renegade
Performance and Safety
The 2018 Jeep Renegade gets an estimated 25 miles per gallon and has a 12.7-gallon gas tank while the 2018 Subaru Crosstrek is much better in this regard. The Crosstrek gets an estimated 29 miles per gallon and has a slightly larger gas tank that can hold 16.6 gallons. For you, this means that you can go a little farther without having to worry about filling your tank as much if you choose the Crosstrek, not to mention the fact that you can go further on less.
The drivetrain in the Renegade is front-wheel drive while the Crosstrek has all-wheel drive as standard. This will definitely give you more control in the crazy weather you might encounter in your day-to-day activities or if you are an adventurous person and want to have a vehicle that will handle those more exciting trips with ease.
Customization and Comfort
The 2018 Jeep Renegade is lacking compared to the 2018 Subaru Crosstrek when it comes to exterior paint options. The Renegade only has eight exterior color options while, if you go with the Crosstrek, you can choose from eleven different options to customize your car the way you want. This is great if you want to individualize your car more and choose a color that fits you best.
Both vehicles share some comfort features. They both include cruise control, electric power steering, and backup cameras to name a few. The Crosstrek offers keyless power door locks where the Renegade does not and the Crosstrek also has more passenger room than the Renegade. While you only 118.6 cubic feet with the Renegade you get 121.7 cubic feet with the Crosstrek. That is over three cubic feet more room to make sure your passengers are definitely comfortable when riding with you, even if your passengers are adults sitting in the rear seat of your vehicle.
2018 Subaru Crosstrek vs. Hyundai Tucson
Fuel Economy
The 2018 Subaru Crosstrek may seem similar when compared to the Hyundai Tucson, but when considering the pros and cons of an SUV, fuel economy is an important issue, due to the rising costs of gasoline. The 2018 Subaru Crosstrek offers 33 MPG for highway use, while the Hyundai Tucson offers only 32 MPG. Sure, the difference is only one gallon, but that is a cost that will continue to compound every time you stop to fill up. With the 2018 Subaru Crosstrek, you are essentially saving money in the long run.
The 2018 Subaru outperforms in cities, with a fuel economy of 27 MPG, while the Hyundai Tucson offers just 23 MPG. If you're looking to save money on fuel with a new SUV, then the 2018 Subaru Crosstrek will deliver.
If you want to get more from your fuel and fill up less often, then the 2018 Subaru will satisfy you, as it delivers MPG in highways and in cities, and the fuel tank capacity is 16.6 gallons. The Hyundai holds almost as much in its tank, but the capacity is maxed out at 16.4 gallons.
Exterior and Styling
At a quick glance, there is something different about the 2018 Subaru Crosstrek, and that is the fact that all models come with raised roof rails. While the Hyundai Tucson can be equipped with rails, it is not a standard feature. In fact, you would have to have these installed at an extra cost to you, either at an authorized retailer or on your own, if you know how to do it.
Raised roof rails are not only convenient for carrying outdoor equipment like bikes and kayaks, but they're also extremely useful for road trips or outdoor adventures, where you need some extra storage capacity. When the trunk is full, roof rails allow you to pile more luggage on top of your car, essentially giving you more storage than first meets the eye when you look at the interior of the car. For true adventurers and travelers, raised roof rails are a must, in order to help transport all kinds of luggage.
Another slight but noticeable difference between the Crosstrek and the Tucson is the size of the wheels. The Crosstrek features 18-inch wheels, while the Tucson features 17-inch wheels. The larger wheels on the Subaru provide more stability, and a smoother, shorter braking distance. With the larger wheels on the Subaru, maneuverability is increased and sharper turns can be made. It can also be noted that larger wheels make for a safer off-road experience as well when compared to smaller wheels. For off-road adventures and an all-around more secure trip, the Subaru's larger wheels will play a large role in your ride.
2018 Subaru Crosstrek vs. 2018 Mazda CX-3
After looking at these two vehicles in detail you can compare to see which one is the better fit for you and your family.
Performance and Exterior
When it comes to engine size and miles per gallon both vehicles are similar with 29 miles per gallon on average and both offering all-wheel drive drivetrains. They also have the same 2.0-liter engine size, however, the Subaru offers more horsepower for you at 152 hp compared to the 146 hp of the Mazda. The Subaru has a larger capacity gas tank with 16.6 gallons (the Mazda has an 11.9-gallon tank.)
The Subaru offers eleven different exterior colors which give you more ways to customize your car when compared to the eight exterior colors that are offered with the new Mazda. The suspension on both vehicles is also something to take into consideration for you and your family. The Subaru offers four-wheel independent suspension and front and rear stabilizer bars and the Mazda offers front independent suspension and a single stabilizer bar. This shows the safety and stabilization are superior on the Subaru.
 Interior and Styling
When comparing the Subaru Crosstrek and the Mazda CX-3 on their interior options you will see that the Subaru blows the Mazda out of the water with all of the different options available to the buyer (you)! The options are below for you to look at yourself to help you make your own decision.
Subaru Interior Options - sunshade, footwell illumination kit - blue, side sill plate, interior and exterior auto-dimming mirror with HomeLink, LED upgrade - map and dome lights, interior and exterior auto-dimming mirrors, auto dimming mirror with compass, auto dimming mirror with compass and HomeLink, cargo net, all-weather floor mats, auto-dimming exterior mirror with approach lighting, STI leather shift knob - CVT, Rockford Fosgate audio upgrade and rear seatback protector.
Mazda Interior Options - Mazda Navigation (fleet), interior lighting kit, frameless auto-dimming mirror with HomeLink, door sill trim plates, all-weather floor mats and cargo net.
Just looking at the two sections above in comparing the 2018 Subaru Crosstrek and the 2018 Mazda CX-3, you can see for yourself that the Subaru definitely has more options for you when it comes to customization and offers better performance options as well.